INDEPENDENT RETAILER magazine is now the official news outlet for Wholesale Central visitors. Each monthly issue is packed with new product ideas, supplier profiles, retailing news, and business strategies to help you succeed.

See new articles daily online at IndependentRetailer.com.
FINIS, which specializes in developing technical equipment for water sports and fitness activities, introduces SwiMP3, a waterproof MP3 player. The patented device allows a person to listen to music while swimming.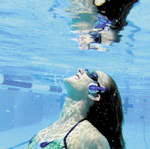 SwiMP3 utilizes bone conduction technology, which is used for cochlear implants (hearing aids) to transmit high fidelity sound directly to the inner ear. Since it does not transmit sound through water but transfers sound vibrations directly from the cheekbone to the inner ear, it has ideal sound clarity.It consists of two paddles, each about six inches long, that fit on the cheekbone with suction. SwiMP3 is designed to be used with swim goggles and snorkeling masks, which fit through small flaps on the side of each paddle. There are no ear phones.The MP3 panel, which is integrated into one paddle, has an On/Off, Volume, Next/Previous track, Pause and Shuffle functions. It operates on a ten hour rechargeable lithium ion battery that charges directly from a USB port. It is compatible with Windows and Mac, and allows files to be directly loaded from a computer. It has 256 megabytes of storage, which allows for the storage of approximately 60 songs.SwiMP3 is currently available in blue. Additional colors, including pink and green, are under consideration for next year. The minimum order is $150, and the wholesale cost of SwiMP3 is $100. Suggested retail price is $149.For more information, contact:
Finis
4647 Las Positas Road Ste. B
Livermore, CA 94551
Toll Free: 888-333-4647
Tel.: 925-454-0111
Fax: 925-454-0066
Website:
www.finisinc.com
Entire contents ©2022, Sumner Communications, Inc. (203) 748-2050. All rights reserved. No part of this service may be reproduced in any form without the express written permission of Sumner Communications, Inc. except that an individual may download and/or forward articles via e-mail to a reasonable number of recipients for personal, non-commercial purposes.