INDEPENDENT RETAILER magazine is now the official news outlet for Wholesale Central visitors. Each monthly issue is packed with new product ideas, supplier profiles, retailing news, and business strategies to help you succeed.

See new articles daily online at IndependentRetailer.com.
RC JEWELS has introduced a line of belts and buckles that carry unique tattoo designs. They fall under the tag line, "True American Designs by Fly Fresh," and Fly Fresh is the brand. The belts and buckles are sold separately.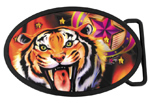 There are currently 25 different designs on both the belts and buckles, and new styles are added regularly. The themes include skulls, roses, lions, tigers, stars, a bulldog, hearts and other art work generally seen on intricate tattoos.
The belts are of denim fabric, on which the designs are printed in very vibrant, richly detailed art. In some cases, several themes are combined. On others, a single theme is enlarged and wraps the full belt. One size belt fits all (up to 42 inches) and has an adjustable clasp. The printing utilizes a special high tech process to ensure that it won't fade or come off.
The buckles are metal and typically about four and 1/4 inches wide and two and 3/4 inches high. They have a black, glossy background, topped with the tattoo design in intricate detail, and the same vibrant colors used on the belts.
The minimum order is $200 and can include an assortment of any of RC Jewels' more than 1,000 designs of hip hop jewelry items, including the new Fly Fresh units. The Fly Fresh belt wholesales for $10, and suggested retail is $24.95. The Fly Fresh buckle has the same wholesale cost and retail pricing.
For more information, contact:
RC Jewels
8775 Centre Park Drive # 322
Columbia, MD 21045
Tel.: 443-416-0208
Fax: 410-740-8292
Website: www.hiphopjewelrywholesale.com
Entire contents ©2022, Sumner Communications, Inc. (203) 748-2050. All rights reserved. No part of this service may be reproduced in any form without the express written permission of Sumner Communications, Inc. except that an individual may download and/or forward articles via e-mail to a reasonable number of recipients for personal, non-commercial purposes.