INDEPENDENT RETAILER magazine is now the official news outlet for Wholesale Central visitors. Each monthly issue is packed with new product ideas, supplier profiles, retailing news, and business strategies to help you succeed.

See new articles daily online at IndependentRetailer.com.
SPRAY TAT has developed a simple system for applying temporary tattoos that utilizes a spray can for applying the same type of body paint that is traditionally used in air brush guns. The Spray Tat system makes it easy for stores to carry the line, and just as easy for flea market vendors and others to profit from offering tattoos at fairs and events.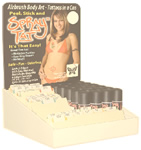 Currently four colors of black, blue, green and red body paint is offered, and additional colors, including yellow and a glittery formula, are being added. Each is offered in a 1.5 ounce spray can. In addition, the company offers 80 different popular stencil designs and has many more in the works. The stencils are on peel and stick Mylar, which has a backing of medical grade adhesive. Simply apply the stencil to the skin, spray it lightly with paint from the can, then peel off the stencil.
Spray Tat calls for a minimum order of $150. The spray cans, on orders of fewer than 100 units, wholesale for $4.50 a unit, and the suggested retail price is $10 a unit. The stencils wholesale for $1.25 a unit, and suggested retail is $3 a unit.
The company offers an introductory starter kit for $199 wholesale. It includes 24 cans in an assortment of all colors; 80 stencils, one of each, arranged in an easy to find and easy to reorder index system, plus a window sign and poster showing all the designs. The starter kit allows retailers to determine which designs sell best in a particular market.
For more information, contact:
Spray Tat
1735 Southwest 54th Street
Cape Coral, FL 33914
Toll free: 888-545-1200
Fax: 239-549-4177
Website: www.spraytat.com
Entire contents ©2021, Sumner Communications, Inc. (203) 748-2050. All rights reserved. No part of this service may be reproduced in any form without the express written permission of Sumner Communications, Inc. except that an individual may download and/or forward articles via e-mail to a reasonable number of recipients for personal, non-commercial purposes.