INDEPENDENT RETAILER magazine is now the official news outlet for Wholesale Central visitors. Each monthly issue is packed with new product ideas, supplier profiles, retailing news, and business strategies to help you succeed.

See new articles daily online at IndependentRetailer.com.
One of the key components of Fatima Siner's game plan for business success includes the philosophy used by all winning football coaches: surround yourself with the best assistants and the most talented personnel. The president of closeouts distributor, UB2B Inc. (including the UltimateB2B and Direct2U brands), has a downright incredible story to tell about how she came all the way from medical school in her native Lisbon, Portugal, to the top of the U.S. wholesale industry. She is also more inclined to deflect praise away from herself, to another staffer, or to the sum of the parts.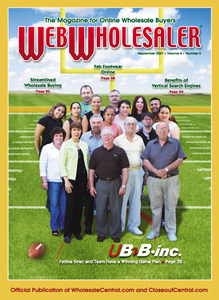 "You need to see my partners' bios," explained Siner, while sitting in her Carlstadt, N.J., office. "Let me email them to you so you can see how great they are." After a look at the bios, it is easy to understand why she gushes about her team. One partner, Anthony Sarno, during his 35 professional years before recently joining UB2B, held executive positions with iconic merchandiser Macy's, and did consulting for financial giants Chase Manhattan and Bank of America.
In the 40 years since Lemuel Shiu emigrated from China, he has built a stellar reputation in the apparel industry as a garments manufacturer and distributor. Now, as UB2B CEO, Siner says, "His success always precedes him, and his name alone means responsibility and trust. We are lucky to have him."
Before joining as Senior Partner, Stephen Server gained a wealth of experience in a staggering number of marketing fields. For instance, he has utilized his talents as a software executive, a publisher, a commercial printer and a point of purchase, content over satellite technology pioneer. "He is a marketing genius and a real-life business pioneer," Siner explains. "His ingenuity and expertise are constant assets to our company."
Of course, Siner has the most history with her cofounder, John W. Miele, who cut his teeth as a business contractor in the late 1970s before launching UB2B with her in 1981, when they initially had just $50 to work with. She describes him as, "hard working, entrepreneurial and creative. He has brought the company to the success that it is today."
However, make no mistake about it: Siner has been right in the middle of why the company has grown to pulling in more than $30 million a year in sales. She has been "the straw that stirs the drink," when it comes to how the firm has gone from a 1,000 square foot warehouse to a facility of more than 40,000 square feet. Her strong, instinctive leadership is also why UB2B has grown from four employees to 17 fulltime, and why it expects to lift revenue by 20% more this year.
"All it takes is to get one customer, and then it is about performance," Siner explained. "If you have one customer in one country, and you hold up your end, you'll get another from that country sooner rather than later. It is a process, which means it might not happen right away. But if you do it right, it will happen."
Service Is Key
Since going online a decade ago, Siner's firm has attracted an increasingly global audience of buyers. She has built her sizable international clientele base by, first and foremost, consistently offering some of the best closeout products found anywhere. But utilizing intelligent marketing efforts has also been important.
For the last few years, she has developed mutually profitable relationships with airways cataloger, SkyMall, and home shopping network, QVC. Not to mention the fact that she has crafted a salty ad strategy, including various web placements, search engine marketing, trade shows, her homegrown email newsletter program and magazine promos.
"We advertise in publications like Web Wholesaler Magazine and have a multichannel approach," she said. "You have to find the best, most targeted advertising methods and stick with them as long as they make you money." However, Siner understands fully that for any business, maintaining customer relationships is always a marketing practice that beats the socks off any customer acquisition campaign in terms of ROI. She admits that establishing longtime customer value with folks from other continents has its challenges, but it is worth it.
"When you do business nationally and internationally like we do, it is all about gaining trust," she explained. "We have a lot of customers that we have never met in person and will never meet. But you know what? It is about talking with them when they call, supporting their needs as a buyer, describing your products and backing your products. It helps to offer some variety as well."
Great Products & Prices
Indeed, UB2B (www.ultimateb2b.com) offers an excellent mix of custom apparel, home furnishings, novelties, embroidery, giftware, watches & jewelry, cookware, lingerie, food products and tools. Siner added that due to her company's experienced leadership with the likes of Sarno, Shiu and Miele, it has the ability to deftly serve an incredibly wide range of product buyers.
"Our longstanding relationships with manufacturers and distributors lets us offer great products at highly competitive prices," Siner said. "In turn, offering top products has let us grow client relationships. We have clients from our first day in business that still work with us today. We also serve notable discounters like Burlington Coat Factory and large retailers like Target, as well as specialty stores, small independent operators and wholesalers. The important thing is that we stand behind our products 100 percent. We inspect and test products before they get into our warehouse, as well as when they leave to be shipped. So when the customer gets them, they are of high quality."
Recently, her website has featured the Storm Sentinel Emergency Kit on the homepage top banner. The Storm Sentinel Emergency Kit has everything an outdoorsy person needs to get through severe storms, blackouts and hurricanes. It is a potentially wonderful Christmas, Father's Day or birthday gift item, and includes a hand powered flashlight, a hand powered cell phone charger with universal attachments, a hand powered LED flashlight, a weather proof nylon carry case, an aluminum carry case and a four-in-one utility piece, including a thermometer, compass, magnifying glass and whistle.
The kit comes with an enticing suggested retail price of $99. Not surprisingly, the Storm Sentinel is popular with shoppers patronizing SkyMall and QVC. It is worth noting that the cell phone charger kit comes separately and has a suggested retail price of $35. Siner said that the value in the Storm Sentinel offer was indicative of what you normally see at her website, adding that the hottest products like the kit can often be found on the snazzy top banner ad.
"I get together with my IT department, and we work on putting the ads together as a team to make it look as well as it does," she explained. "Right now, I like the navigability of the Web site because we hear from customers that they are able to find the products they are looking for without any trouble."
Fantastic Four Tips
Siner is an endless source of street sense and marketing acumen. The veteran businesswoman offered the following four tips for emerging Internet entrepreneurs who are just getting their feet wet with global ecommerce:
"There can be a language or cultural barrier with international customers. You have to be really open minded, because they do not necessarily do business in their home country just like we do in the U.S. They may have different customs and traditions. Actions that might be OK here, might not be OK there."
"Thoroughly research what you want to do and investigate the marketplace you are thinking of going into. You should know how the products are sold, as well as who else is already selling them."
"Products do not appear out of thin air. For instance, with apparel, there are processes with fabrics, and there is product design, packaging design and marketing design. These are the things you need to be learning every day. Many people go into business without knowing anything and expect to be successful. And then they are surprised when they fail."
"Think, think and think. Think about EVERYTHING carefully. Read books about business. Use a lot of common sense and don't give up. And always try to make the best of a situation."
Student Turned Business Hero
In terms of her personal journey, she makes a highly appropriate point in tip #4 about always making the best of a situation. Fatima Siner was a young medical student in 1974 when her native Portugal, under a half century of dictatorship rule, started to experience political unrest during the months leading up to the Carnation Revolution. In the end, the peaceful revolution inspired a wave of democracies in Greece, Spain and Latin America.
At the beginning of the revolution, her father, who did not have the luxury of knowing what the future would hold, rushed his family to the United States, because he did not want to risk them becoming victims of a civil war. While coming from a place where the distinct customs were all she knew, adjusting to American life was not easy for Siner. She was now in a place where up seemed like down, where football was called soccer.
"I remember the culture shock more than anything," she said. "It was a natural reaction." Medical school was now in the rearview mirror, and she had to take a sewing job to help her family pay the bills. Eventually, she found a secretarial job with a manufacturer, which set in motion a series of events that led to her becoming her own businessperson a few years later with UB2B. And due to long car commutes everyday, she became a great lover of music of all kinds, and now she often enjoys going to watch her 11 year old daughter perform in theatrical musicals, such as, "Fiddler on the Roof."
"I have seen, 'Fiddler on the Roof,' every day for three weeks straight," Siner explained, while giggling about the fact. "No seriously, the arts are very important to my family. For me, life is a great theater. Everyday, we go on stage, and we have to improvise our act, although we never know the ending. We hope we have a happy ending, but that is not for sure. It is true in business, too. We can only work very hard at what we do, adapting to market trends and readying ourselves for the advantages that arise. It is important to be ready to act on opportunities when they appear to be real."
For more information, contact:
UB2B Inc.
463 Barell Avenue
Carlstadt, NJ 07092
Toll Free: 866-218-2468
Tel.: 201-319-9700
Fax: 201-319-1771
Website: http://ultimateb2b.com
Entire contents ©2023, Sumner Communications, Inc. (203) 748-2050. All rights reserved. No part of this service may be reproduced in any form without the express written permission of Sumner Communications, Inc. except that an individual may download and/or forward articles via e-mail to a reasonable number of recipients for personal, non-commercial purposes.