INDEPENDENT RETAILER magazine is now the official news outlet for Wholesale Central visitors. Each monthly issue is packed with new product ideas, supplier profiles, retailing news, and business strategies to help you succeed.

See new articles daily online at IndependentRetailer.com.
TIMELESS TRADITIONS revitalizes the Tear Bottle, a decorative glass bottle that dates back to Egypt and also appears in the bible. Tear Bottles are typically used to commemorate rites of passage, such as birthdays, and celebrate other important events and express sentiments. Tear bottles are encased in decorative metal. The company offers five basic lines, and most of the metal designs surrounding bottles within each line are offered in a range of decorative finishes, such as gold, brass and pewter.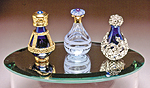 The Contemporary line features hand blown bottles and represents the top of the line for Timeless Traditions. It includes eight different designs, including a breast cancer ribbon design and another commemorating the birth of a boy and a girl. Glass tints include amethyst, red, blue and verdigris. Units in the Contemporary line wholesale for $23 to $27, depending on the metal finish, and suggested retail is $47 to $55.
The Victorian line is the least expensive. It features flowers, vines and leaves. The wholesale price ranges from $13 to $14, and the suggested retail is $26 to $29.95. The Roma line includes two designs: a banded pattern and a Forget Me Not pattern. Roma tear bottles have a Swarovsky crystal on top. Wholesale prices range from $17 to $19, and retail pricing is $34 to $39. The Artisan collection is new and now has one design, the Circle of Love, featuring figures clasping hands. The wholesale is $24, and retail is double that.
The Passion of the Christ line has a tiny tablet that actually has all 180,000 words of the New Testament printed on it; the smallest reproduction ever of this book. Its design includes a crown of thorns, in addition to the tiny tablet. The decoration is in antique gold, and wholesale price is $23 to $24.50. The suggested retail is $47 to $49.
The opening minimum order is $100, and can mix and match lines. Every Tear Bottle comes with a brochure that is imprinted with the retailer's identification. On a $100 order, the retailer gets a free 4 by 6 inch tent display sign that has the history and tradition of tear bottles on one side, and gift giving ideas on the other. On orders of $200, retailers get a free 8 by 10 inch plastic displayer that is customized with the retail store's identity.
For more information:
Timeless Traditions
1627 West Main Street, Ste. 368
Bozeman, MT 59715
Tel.: 406-388-2900
Fax: 406-388-6819
Website: www.timelesstraditionsgifts.com
Entire contents ©2023, Sumner Communications, Inc. (203) 748-2050. All rights reserved. No part of this service may be reproduced in any form without the express written permission of Sumner Communications, Inc. except that an individual may download and/or forward articles via e-mail to a reasonable number of recipients for personal, non-commercial purposes.