INDEPENDENT RETAILER magazine is now the official news outlet for Wholesale Central visitors. Each monthly issue is packed with new product ideas, supplier profiles, retailing news, and business strategies to help you succeed.

See new articles daily online at IndependentRetailer.com.
"Chirp! Chirp!" THE CRICKET TOY has developed a toy by the same name, which is designed to fill awkward moments with the sound of a cricket's chirping. It's about two and a half inches, vaguely resembles a cricket and has a hook so it can be attached to a key chain.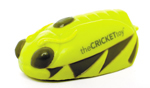 The company describes its target market as high schoolers, college students and people who watch, "The Office," television program that spoofs office workers. The Cricket Toy is made of a durable PVC plastic and operates on two integral watch batteries, which are not replaceable. It will last for a minimum of 2,700 chirps, which would amount to 270 days worth, should it be used for 10 awkward moments every day. The Cricket Toy is a fun and silly space filler for moments when there's a lull in the conversation, such as after a joke falls flat. Among its users are salespeople, folks on conference calls, and those on occasions where something is needed to break a silence.
The Cricket Toy is individually blister packed. The minimum order is two dozen units, with a wholesale price of $3.60. Volume discounts are available. On orders of a case containing eight dozen, the wholesale price is $2.99. The suggested retail price is $7.99.
For more information:
The Cricket Toy
101 Cabin Creek Court
Spring Hill, TN 37174
Toll Free: 866-371-9411
Website: www.thecrickettoy.com
Entire contents ©2022, Sumner Communications, Inc. (203) 748-2050. All rights reserved. No part of this service may be reproduced in any form without the express written permission of Sumner Communications, Inc. except that an individual may download and/or forward articles via e-mail to a reasonable number of recipients for personal, non-commercial purposes.