INDEPENDENT RETAILER magazine is now the official news outlet for Wholesale Central visitors. Each monthly issue is packed with new product ideas, supplier profiles, retailing news, and business strategies to help you succeed.

See new articles daily online at IndependentRetailer.com.
Kis Products LLC introduces THE GAS GRIPPER, a personal hands free, gas nozzle clip. THE GAS GRIPPER is designed for many types of customers, including people with disabilities, impatient customers who can't stand holding and pumping, and the person who loves helpful gadgets.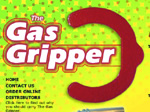 The design of THE GAS GRIPPER is simple, and the make is from static resistant plastic that is also impermeable to all petroleum products. The product is packaged on blister cards with bright and colorful eye catching features, yet carded small enough to be displayed anywhere. THE GAS GRIPPER is a big impulse sales item.
Storage of THE GAS GRIPPER is both convenient and hassle free. It comes with a Velcro brand hook n loop, so it can be attached to the inside of any vehicle's gas door. Market research shows 137 million registered passenger vehicles in the U.S., and most homes have two or more vehicles.
THE GAS GRIPPER is manufactured in the U.S. at the same cost as overseas, but with less lead time on orders. The minimum order is a 48 piece Carton. Free shipping is offered on all orders of 2 master cartons (4 gross) or more. The wholesale price is $0.80 cents and the suggested retail price is $1.99 to $2.99. For more information, contact:
Kis Products LLC
P.O. Box 344
50 Gray Lane
Goshen, CT 06756
Tel.: 860-480-5958
Website: www.thegasgripper.com
Entire contents ©2022, Sumner Communications, Inc. (203) 748-2050. All rights reserved. No part of this service may be reproduced in any form without the express written permission of Sumner Communications, Inc. except that an individual may download and/or forward articles via e-mail to a reasonable number of recipients for personal, non-commercial purposes.