INDEPENDENT RETAILER magazine is now the official news outlet for Wholesale Central visitors. Each monthly issue is packed with new product ideas, supplier profiles, retailing news, and business strategies to help you succeed.

See new articles daily online at IndependentRetailer.com.
KAMHIWORLD introduces, "Splat Attack," a series of six different squishy, water filled creatures and designs that splat when thrown on a flat surface, and then quickly morph back into their original form. The units are non toxic and completely safe.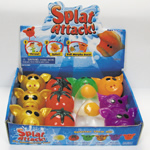 The series includes a tomato, called, "tomato torpedo;" an egg design, "egg beater," and four pig face designs, each in a different color. They are named, "orange crusher," "purple punisher," "golden grappler," and "slimey limey." Each fits in the palm of the hand. The minimum order is a case of 144 assorted pieces. The wholesale cost on that is $1. The supplier is actively seeking distributors, and the wholesale price diminishes with volume orders. The suggested retail is $1.99, and management reports that some dealers are selling units for as much as $4.99.
A countertop display with a header is available. It holds 12 units in an assortment of designs. Kamhiworld also wholesales a wide variety of novelty items, including Alvin & the Chipmunks and Fred Figglehorn talking pens, buttons, stickers and talking bookmarks.
For more information, contact:
Kamhiworld
1211 Tenth Street SW
Largo, FL 33770
Tel.: 727-210-6142
Fax: 727-210-2664
Website: www.kamhiworld.com
Entire contents ©2022, Sumner Communications, Inc. (203) 748-2050. All rights reserved. No part of this service may be reproduced in any form without the express written permission of Sumner Communications, Inc. except that an individual may download and/or forward articles via e-mail to a reasonable number of recipients for personal, non-commercial purposes.