INDEPENDENT RETAILER magazine is now the official news outlet for Wholesale Central visitors. Each monthly issue is packed with new product ideas, supplier profiles, retailing news, and business strategies to help you succeed.

See new articles daily online at IndependentRetailer.com.
ANSWERS IN MOTION LLC offers Thumball, a game based on a ball the shape of a soccer ball, which uses the panels of the ball to initiate word and thought games that appeal to people of all ages and skill levels. There are currently 13 different Thumball designs, and more are in the works.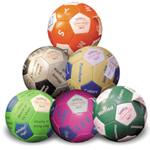 In all of the versions, the game begins with a toss of the ball. The player that catches it reacts to the image, logo, word or graphic that is under the panel on which the player?s thumb or designated finger falls. There are three inch, four and six inch models. The Catch 32 Thumball comes in various sizes and has 32 panels. The Catch 12 Thumball is a six inch version with 12 panels that are easy to reach. While this Early Learners Line was designed for preschoolers, it has been found to also be very useful for seniors, including those suffering from Alzheimer?s disease. Thumball can stimulate conversation, improve social interaction, develop communication skills, link learning with play, bond families, train employees and be utilized as incentive programs. In the latter case, prizes can be attached to particular panels and/or accomplishments. One of the better sellers is the Ice Breaker Thumball. Each panel asks the catcher to share a preference or experience, leading to a non threatening way for strangers to get to know one another. Players often use their imagination to modify different Thumball games. Thumball units come individually packaged, and a header on each gives ideas for playing the game. The minimum order is 48 pieces in sets of six units of the same design. A retailer can obtain six units of eight different designs within the minimum order. The wholesale price of the four inch version is $4.29, and suggested retail is $8.99. The wholesale for the six inch version is $5.49, and has a suggested retail price of $10.99. Wholesale prices drop with volume orders. For $40, a retailer can buy a display rack that holds 72 units. It can show all sizes of Thumball and can be used as a floor stand or on a table top. For more information, contact:
Answers in Motion LLC
204 South Lippincott Avenue
Maple Shade, NJ 08052
Tel.: 732-267-7792
Fax: 856-667-4039
Website:
www.thumball.com
Entire contents ©2022, Sumner Communications, Inc. (203) 748-2050. All rights reserved. No part of this service may be reproduced in any form without the express written permission of Sumner Communications, Inc. except that an individual may download and/or forward articles via e-mail to a reasonable number of recipients for personal, non-commercial purposes.