INDEPENDENT RETAILER magazine is now the official news outlet for Wholesale Central visitors. Each monthly issue is packed with new product ideas, supplier profiles, retailing news, and business strategies to help you succeed.

See new articles daily online at IndependentRetailer.com.
TICKLE ME PLANT COMPANY offers TickleMe Plant seed packets, which contain 10 to 20 Mimosa Pudica seeds. Simply plant the seeds in a pot with soil. Within days, the plant, also known as sensitive plant, sprouts.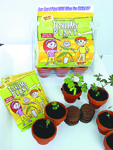 Gently tickle the leaves, and they close and the branches lower. Within 15 minutes, the fernlike branches lift and the leaves open. The plant is native to Brazil, and its seeds are easy to grow year round.
The seed packets are offered in a minimum order of two cases of 12 packets each, which includes a shelf displayer. The wholesale price is $2.45 a packet, and the suggested retail is $4.95.
The company offers greenhouse kits, which contain six mini flower pots and soil pellets, along with two TickleMe seed packets. These are offered in a case of 12 units. The wholesale price is $11.50, and the suggested retail is $19.99. The company hosts an interactive website, featuring fun, educational activities. For more information, contact:
TickleMe Plant Company Inc.
Eden Farm
60 Hurds Corner Road
Pawling, NY 12564
Tel./Fax: 845-350-4800
Website: www.ticklemeplant.com
Entire contents ©2022, Sumner Communications, Inc. (203) 748-2050. All rights reserved. No part of this service may be reproduced in any form without the express written permission of Sumner Communications, Inc. except that an individual may download and/or forward articles via e-mail to a reasonable number of recipients for personal, non-commercial purposes.