INDEPENDENT RETAILER magazine is now the official news outlet for Wholesale Central visitors. Each monthly issue is packed with new product ideas, supplier profiles, retailing news, and business strategies to help you succeed.

See new articles daily online at IndependentRetailer.com.
DR. COLLINS INC. offers a toothbrush that has nylon bristles that are infused with toothpaste. When it is wet, the water reactivates the toothpaste and the brush is ready for use.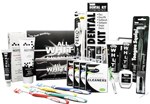 Initially intended for one time use, primarily for travel, the Dr. Collins toothbrush has become even more useful to a wider variety of users. It is ideal, for example, for people who want to freshen up after work, keep a spare in their gym bag, car or boat, or keep one or more on hand for overnight guests.
Furthermore, the brush, which is ergonomically designed and made to last, can be used after its initial use. Simply apply toothpaste and use it as a conventional toothbrush.
Units come individually packaged in a plastic poly bag. The package clearly instructs users to wet to activate. Dr. Collins disposable toothbrushes come in a choice of four colors: red, blue, green and yellow. They are offered singly or in 12 unit packs. The minimum order is $200. The wholesale cost is 21 cents, and the suggested retail price is 33 cents a brush.
A cylindrical plastic tub for display comes free with each minimum order. It holds 144 units.
For more information, contact:
Dr. Collins Inc.
26229 Enterprise Court
Lake Forest, CA 92630
Toll Free: 888-583-6048
Tel.: 949-916-0948
Fax: 949-916-0951
Website: www.drcollins.com
Entire contents ©2022, Sumner Communications, Inc. (203) 748-2050. All rights reserved. No part of this service may be reproduced in any form without the express written permission of Sumner Communications, Inc. except that an individual may download and/or forward articles via e-mail to a reasonable number of recipients for personal, non-commercial purposes.