INDEPENDENT RETAILER magazine is now the official news outlet for Wholesale Central visitors. Each monthly issue is packed with new product ideas, supplier profiles, retailing news, and business strategies to help you succeed.

See new articles daily online at IndependentRetailer.com.
ONE & ONLY FIGURES has developed 18 different Towel Cakes, which are designs of washcloths that are configured to look just like cakes and other desserts, which makes them ideal gifts and favors. There are two different towel sizes in the series: 12 and eight inches square.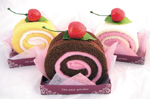 All are dressed up with typical fancy dessert décor, such as plastic fruits, and each has a message, like, "best wishes," or, "sweet love." The jelly roll is the most popular 12 inch size, and a heart shape strawberry sweet love is the most popular in the smaller size. It is the one unit that actually consists of two washcloths. Ice creams are being added, and they will be made of 12 inch square washcloths.
Other designs are a chocolate cheesecake, lemon cheesecake, cherry mousse cake, strawberry cupcake, lollipop, mango roll, and many more, such as chocolate and coconut cake. Each of the larger units comes in a clear plastic box, which shows the contents. The smaller ones are packaged in clear plastic bags.
The minimum opening order is $100. Wholesale prices vary depending on the specific design, and the cost ranges from $1.85 to $2.60. The suggested retail price is at least double wholesale cost, and the supplier reports that some boutiques charge as much as $6.99 and even $9.99. A display that is formed as a two tier cake display rack is available for $15. It can hold more than a dozen Towel Cakes. The top tier generally holds about six units, and the lower can hold eight to 10.
For more information:
One & Only Figures
17360 Colima Road, Ste. 772
Rowland Heights, CA 91748
Tel.: 626-823-1841
Fax: 518-824-0700
Website: www.claymyfigure.com
Entire contents ©2023, Sumner Communications, Inc. (203) 748-2050. All rights reserved. No part of this service may be reproduced in any form without the express written permission of Sumner Communications, Inc. except that an individual may download and/or forward articles via e-mail to a reasonable number of recipients for personal, non-commercial purposes.