INDEPENDENT RETAILER magazine is now the official news outlet for Wholesale Central visitors. Each monthly issue is packed with new product ideas, supplier profiles, retailing news, and business strategies to help you succeed.

See new articles daily online at IndependentRetailer.com.
VITILA BRANDS LLC introduces Tranquila, a beverage designed to bring calm in trying times. It is available in two versions: Tranquila Original, to reduce stress during the day, and Tranquila P.M., to promote restful nights. Both versions are offered in two ounce bottles.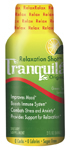 Among the contents in the original, day time Tranquila are vitamins B3, B6, B12, folic acid and a proprietary blend of herbs and extracts, including gamma amino butyric acid, Rhodiola Rosea flower extract and Eleutherococcus Senticoccus root extract. The formula delivers a relaxation shot. Its contents also boost the immune system, according to the supplier.
Contents of Tranquila P.M. include melatonin, phenibut, vitamin B6, zinc and magnesium. A shot of this formula makes a person drowsy, hastens falling asleep, and promotes a more restful sleep without any after effects. Both formulas also include purified water, and the single serving bottles have no calories.
The minimum order is a countertop display unit containing 12 bottles of one version of Tranquila. The wholesale cost varies for a 12 bottle display, depending on the order volume and whether the buyer is a wholesaler or a retailer, but ranges between $14 and $15.50 for the dozen bottle display unit. The suggested retail price is $2.49 to $2.99 a bottle.
For more information:
Vitila Brands LLC
555 Broad Hollow Road, Unit 116
Melville, NY 11747
Toll Free: 888-484-8452
Fax: 718-228-8062
Website: www.tranquila.com
Entire contents ©2022, Sumner Communications, Inc. (203) 748-2050. All rights reserved. No part of this service may be reproduced in any form without the express written permission of Sumner Communications, Inc. except that an individual may download and/or forward articles via e-mail to a reasonable number of recipients for personal, non-commercial purposes.