INDEPENDENT RETAILER magazine is now the official news outlet for Wholesale Central visitors. Each monthly issue is packed with new product ideas, supplier profiles, retailing news, and business strategies to help you succeed.

See new articles daily online at IndependentRetailer.com.
BRANDY'S CANADIAN IMPORTS supplies natural, transparent rolling paper that is made of 100 percent natural, pure plant cellulose. The paper is unbleached, which is said to be healthier than white rolling paper, and contains no glue.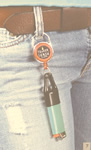 They are packaged in a box containing 50 papers. The minimum order is a case containing 24 boxes, for a total price of $24. That puts the wholesale price per unit at $1 a box. Suggested retail is between $3 to $5 a box.
This is the same company that offers the Back2Me series of leashes, with attachments for cigarette lighters, lipstick, keys and other small items. The leashes roll back into a covered circular spool that can be held in a purse or clipped to a backpack or belt loop. They come in a range of sizes and lengths, with a variety of attachments for holding different items.
For more information, contact:
Brandy's Canadian Imports
P.O. Box 521625
Big Lake, AK 99652
Toll free: 866-733-2006
Tel.: 907-892-6867
Fax: 907-892-6887
Website: www.brandys-imports.com
Entire contents ©2021, Sumner Communications, Inc. (203) 748-2050. All rights reserved. No part of this service may be reproduced in any form without the express written permission of Sumner Communications, Inc. except that an individual may download and/or forward articles via e-mail to a reasonable number of recipients for personal, non-commercial purposes.