INDEPENDENT RETAILER magazine is now the official news outlet for Wholesale Central visitors. Each monthly issue is packed with new product ideas, supplier profiles, retailing news, and business strategies to help you succeed.

See new articles daily online at IndependentRetailer.com.
VITTLE BUDDIES has launched a line of novelty personalities called, Vittle Buddies, which began with, "Potato Pals." It was followed by, "Java Pals," and joined by, "Vino Pals."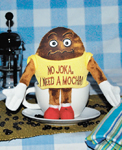 There are 15 different Potato Pals pillow designs, all made of cotton and about the size of a football. Each design has a different facial expression, name and slogan related to couch potatoes. For example, "Spicoli," is a hippie touting chips, dip and a remote control. "Frenchie," described as a ladies' man, says, "Spud Stud."
More Potato Pals are on the drawing board, and there are also T-shirts carrying depictions of the different designs, along with their slogans. The minimum order for the pillows in this series is $25, and the wholesale cost is $3. Orders can contain a mix of designs. The suggested retail price ranges from $7 to $8.
There are five different Java Pals pillow forms, which are coffee themed dolls shaped like a coffee bean, and approximately the size of a fist. Among the slogans on these designs are, "No Coffee, No Workee," and, "No Joka, Need a Mocha." The minimum order for Java Pals is $25. The wholesale price is $1.95, and suggested retail is $6.
The eight different Vino Pals designs are different faces embroidered on wine gift bags. Among the slogans on the bags are, "Will Sin for Zin," and, "Chardonnay Takes My Cares Away." The minimum order for Vino Pals is $24. The wholesale cost is $3 a unit, and suggested retail is $6.
For more information, contact:
Vittle Buddies
P.O. Box 1907
Rohnert Park, CA 94927
Tel.: 707-481-8610
Fax: 707-586-3924
Website: www.vittlebuddies.com
Entire contents ©2022, Sumner Communications, Inc. (203) 748-2050. All rights reserved. No part of this service may be reproduced in any form without the express written permission of Sumner Communications, Inc. except that an individual may download and/or forward articles via e-mail to a reasonable number of recipients for personal, non-commercial purposes.