INDEPENDENT RETAILER magazine is now the official news outlet for Wholesale Central visitors. Each monthly issue is packed with new product ideas, supplier profiles, retailing news, and business strategies to help you succeed.

See new articles daily online at IndependentRetailer.com.
PHONETRANSACT.COM, an iPhone software developer, offers two retail related software programs that combine to give retailers a handy, portable credit card and point of sale terminal. Both work through an iPhone.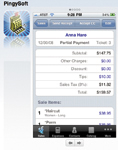 One of the software programs, iMerchant, is a credit card terminal that accepts and processes customers' credit cards. It is sold through an iTunes App Store for a one time cost of $24.99. The retailer takes an iPhone to the store and downloads the program, after identifying iMerchant through a search. Click, "buy it," and the program is automatically loaded into the user's iPhone. For the same cost, it can actually be loaded into five iPhones, which would enable a retailer to provide it to up to four staff members. To make it operational, it has to be linked to and compatible with the retailer's credit card merchant account. PhoneTransact.com will either provide the retailer with a gateway to an existing merchant account, or help the retailer establish an additional merchant account.
The iMerchant software program is continually upgraded. At no cost, Apple automatically downloads it to the iPhone with iMerchant, which can be used alone or in tandem with the second software program. That is the "Ring it Up" point of sale software package. It is a POS system that operates on the iPhone. Like iMerchant, it is installed at the iTunes App Store. Through the search mechanism, press Ring it Up, then buy it. The one time cost is $29.99, and it is automatically installed into the retailer's iPhone. Like iMerchant, it is automatically updated by Apple.
In processing the sale, Ring it Up provides customizable receipts, which are sent to the customer via email. It also features inventory management, allows the merchant to enter sales and expenses, generate reports and import and export data. It can also be integrated with the user's iPhone address book, making the retailer's customer list instantly accessible. It also records full or partial payments and provides calculations. Once the sale is made, it routes the transaction through iMerchant to access the customer's card processor. While both programs are useful for any merchant, they are ideal for small retailers, flea market merchants and kiosk and cart vendors.
For more information, contact:
PhoneTransact.com
2350 Northwest Executive Center Drive
Boca Raton, FL 33431
Toll Free: 877-234-5657
Tel.: 561-847-3399
Fax: 561-859-0757
Website: www.touchtransact.com
Entire contents ©2022, Sumner Communications, Inc. (203) 748-2050. All rights reserved. No part of this service may be reproduced in any form without the express written permission of Sumner Communications, Inc. except that an individual may download and/or forward articles via e-mail to a reasonable number of recipients for personal, non-commercial purposes.