INDEPENDENT RETAILER magazine is now the official news outlet for Wholesale Central visitors. Each monthly issue is packed with new product ideas, supplier profiles, retailing news, and business strategies to help you succeed.

See new articles daily online at IndependentRetailer.com.
RABINOWITZ DESIGN WORKSHOP supplies Twisteez Wire, which was inspired by colorful telephone wire and modified by husband and wife art teachers in the 1960s. Initially, they took these phone wires found at the local dump to school, and later had them developed into a more colorful selection.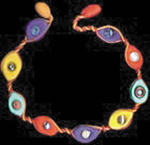 These bendable lengths of 22 gauge wire are now covered in 13 different colors of plastic. The artistic possibilities are endless, as has been proven by art contests that the company, which is now operated by the Rabinowitz' six children, has conducted. "They can also be braided into hair," says Sandy Rabinowitz. Twisteez Wire is recommended for children age eight and older.
A bundle of 50 Twisteez Wires, 30 inches long and containing all 13 colors, wholesales for $4 and has a suggested retail price of $8. A bundle of 200 wires, 30 inches long, wholesales for $14 and has a suggested retail of $28. A bundle of 50 wires 60 inches long wholesales for $8 and has a suggested retail of $16.
The minimum order for first time buyers is $50, and can include an assortment of any of the company's products. Twisteez Wire bundles are packaged in a plastic bag that includes illustrations of creative uses of the wires, and also shows the contents.
For more information, contact:
Rabinowitz Design Workshop
Eight Carmel Road
Bethany, CT 06524
Tel.: 203-393-2397
Fax: 203-393-1721
Website: www.twisteez.com
Entire contents ©2022, Sumner Communications, Inc. (203) 748-2050. All rights reserved. No part of this service may be reproduced in any form without the express written permission of Sumner Communications, Inc. except that an individual may download and/or forward articles via e-mail to a reasonable number of recipients for personal, non-commercial purposes.