INDEPENDENT RETAILER magazine is now the official news outlet for Wholesale Central visitors. Each monthly issue is packed with new product ideas, supplier profiles, retailing news, and business strategies to help you succeed.

See new articles daily online at IndependentRetailer.com.
CARDBOARDESIGN offers approximately 50 different products, including nine for kids, all made of recycled, recyclable cardboard. One big hit in the kids line is a, "Lemonade/Advice Stand," which takes the middle part of its name from Lucy, famous for selling advice in the Peanuts cartoon.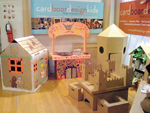 This stand can be used to sell lemonade and advice, and also serve as a puppet theater or other use dreamed up in a child's imagination. The unit comes in a flat box that can be stored and reused. The Lemonade/Advice Stand consists of six components that are easy to assemble without glue, tape or Velcro. No tools are needed. Assembled, it stands 67 inches tall, 24 inches deep and 43 inches wide. It has a countertop, cabinets below and a large signage area above that connects the support poles.
It, like all Cardboardesign products, comes in natural Kraft board color, but it is sturdy and durable enough to be painted, colored with crayons or decorated in many ways. The double and triple wall cardboard is high quality and durable.
The minimum order is $300, and can contain any of the company's products. The wholesale cost for Lemonade/Advice Stand is $47, and the suggested retail is double wholesale. Other products in the kids line include a teepee, castle/fort, rocket and airplane, and car that kids can climb into and carry about. The car wholesales for $24 and has a suggested retail of $47.
The least expensive furniture piece is the EcoLogic Tri Chair, a dining or occasional chair that will hold up to 400 lbs. It wholesales for $40. At the other end of the price spectrum is 63 by 63 inch EcoLogic shelving that wholesales for $165. The company also offers honeycomb cardboard decorative accessories it calls, "liquid cardboard," because of their ability to transform into different shapes and uses.
For more information:
Cardboardesign
718 25th Street
Union City, NJ 07087
Tel.: 914-456-2728
Fax: 201-867-0006
Website: www.cardboardesign.com
Entire contents ©2023, Sumner Communications, Inc. (203) 748-2050. All rights reserved. No part of this service may be reproduced in any form without the express written permission of Sumner Communications, Inc. except that an individual may download and/or forward articles via e-mail to a reasonable number of recipients for personal, non-commercial purposes.