INDEPENDENT RETAILER magazine is now the official news outlet for Wholesale Central visitors. Each monthly issue is packed with new product ideas, supplier profiles, retailing news, and business strategies to help you succeed.

See new articles daily online at IndependentRetailer.com.
TILANO DECORATIVE PRODUCTS offers seven different photo transfer kits that allow people to put their own images on useful and decorative items. Each kit has these common ingredients: Tilano paper and the Tilano liquid transfer medium, a brush, a spreader and complete instructions.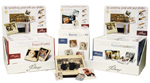 Each of six different kits also contains a surface, and the seventh is designed to use on an existing surface, which can be anything ranging from furniture, cabinets, candles, a scrapbook album cover or more.
The Fresco tile kit includes two eight inch square tiles. The Marble Coaster kit includes four four inch square marble coasters. Each of these kits wholesales for $22, and they carry a suggested retail price of $44.
The DaVinci kit contains a six by eight inch tile. The Canvas Transfer kit holds one eight by 10 inch canvas. The Ornamento Glass Magnet kit includes wires and materials for making either three hanging ornaments or three magnets. The Marble Magnet kit includes four two inch square magnets. These four, plus the Image Transfer Kit, which can be used on any surface each have a wholesale cost of $12.50 and a suggested retail of $24.99.
The minimum order is a case of six kits, and it can include three each of two different versions. A displayer comes free on opening orders. There are two versions. One holds three each of any combination of the Fresco, Marble Coaster, DaVinci and Canvas. The other holds three each of the Ornamento, Marble Magnet or Image Transfer units. The displayers have a header that summarizes the three step process and shows examples of finished images. A how to video is also available on the company website.
A starter package is available for a wholesale cost of $232. It includes three Fresco, three Marble Coaster, four Ornamento and four Marble Magnet kits along with three display units and free shipping.
For more information, contact:
Tilano Decorative Products
1315 Powell Street
Vancouver, BC V5L 1G8 Canada
Toll Free: 877-872-0729
Tel.: 604-872-0729
Fax: 604-872-0391
Website: www.tilano.net
Entire contents ©2022, Sumner Communications, Inc. (203) 748-2050. All rights reserved. No part of this service may be reproduced in any form without the express written permission of Sumner Communications, Inc. except that an individual may download and/or forward articles via e-mail to a reasonable number of recipients for personal, non-commercial purposes.