INDEPENDENT RETAILER magazine is now the official news outlet for Wholesale Central visitors. Each monthly issue is packed with new product ideas, supplier profiles, retailing news, and business strategies to help you succeed.

See new articles daily online at IndependentRetailer.com.
GENCO Marketplace was a burgeoning company for 14 years, offering surplus inventories and liquidating millions of dollars worth of merchandise daily. In a nutshell, the firm was in the business of remarketing customer returns and new closeouts, or overstock items by the pallet or truckload. It was doing well.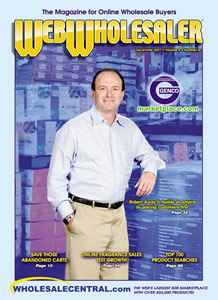 Just over a year ago, GENCO Marketplace underwent a change in leadership, which can be scary to the staffers used to a certain company culture. But little did they know that the firm was bringing in someone as astute as Robert "Bob" Auray Jr. to be the President and CEO. Auray had built up his leadership chops over 25 years, working in various executive roles in accounting, financing and logistics. Most recently, he led USCO Logistics in a nine year tenure, during which the Hamden, CT, based firm tripled its revenues and profited commensurately.
He brought to GENCO Marketplace a philosophy that a company must value its employees with respect, loyalty, and a compensation system that rewards effort. It should be noted that the prior leadership was not devoid of the idea of creating a strong employee culture. Auray's principled approach appears to have had a more sagacious touch, as the bottom line has grown and been taken to a whole new level. GENCO is producing 30 percent more revenue so far this year, compared to 2006, including more than $7 million in new sales.
"I believe that the strength of the wolf is the pack and the strength of the pack is the wolf," said Auray, quoting the NBA coaching legend and philosophical guru, Phil Jackson. "I very much believe in that type of environment, where everyone is the star. The stars are the ones outside my office making it all happen."
Listening to Auray riff on leadership makes one want to go out and motivate the world. It is no wonder that he has helped his firm ratchet up a network of 17 fulfillment locations that total 1.4 million square feet. Headquartered in Pittsburgh, PA, the company's central campus features a state of the art 300,000 square foot facility.
Internally, he has been able to further take advantage of the firm's superb reversed logistics software that helps merchandisers send products back to vendors. But he doesn't do it alone. Like all strong leaders of large organizations, Auray deftly delegates authority. As just one example, he leans on the seasoned logistics expert, Dr. Ann Samler, GENCO's Director of Technology Development, to manage the company's crucial reverse logistics system. More than 200 employees come to work everyday with a company-wide purpose that goes beyond merely grinding out another paycheck.
"I think the most important thing a CEO can do is set out a clear, aspiring vision about who we want to be," Auray explained. "And then, articulate a set of values that define to people how we are going to achieve the vision. Keep them up to date on how we are doing with those strategies and against those goals in a day to day and month to month sense. You want to create an empowered culture."
A Trusted Trading Environment
When Auray came aboard, another part of his vision was for GENCO to be the premier network for sellers and buyers of off priced goods. He wanted to educate his customer audience that GENCOMarketplace.com was a trusted trading environment, where sellers and buyers could meet and know that they will find a large selection, accurate product representation and be able to do business easily. As the revenue numbers indicate for 2007, his vision has worked wonderfully.
At www.gencomarketplace.com, buyers can find the best prices for liquidated product lines, such as apparel, electronics, toys, hardware, jewelry, baby clothes, health and beauty, furniture, sporting goods and shoes. This month, the site will feature an array of Christmas products and décor for the holiday season. GENCO's products, which can also be accessed through www.GENCO.com, derive from North American retailers and general line consumer products manufacturers and distributors.
The company spends ample space on its website to educate customers on how the reverse logistics system can work for them. GENCO's marketing staffers have done an excellent job detailing how their software builds pallets and identifies every item that is on a pallet, which is an unusual and positive feature in the salvage products niche.
"The reverse logistics system lets you know exactly what you're buying; the quantity, description, everything," Auray said. "A lot of our buyers may be eBay power sellers or wholesalers and flea marketers, discount clerks, etc. And, they want to know what they are buying. In our system, everyone is clear on what they are getting. We believe that the educated customer is the best customer. We want to help our buyers grow their business profitably. Our success is very much tied to theirs."
Auray Taps Top Vendors
Auray and his team simply do not rest on their laurels. The huge sales increases have not arisen from thin air. They are constantly tweaking ads at their top performing online marketing venues, such as Google, Yahoo and WholesaleCentral.com.
For the last year, they have been using a leading search engine optimization (SEO) and marketing consultancy firm, Impaqt, to continuously increase their site traffic. During August, in order to both increase the site's SEO performance and augment the available education material, the team added a business introduction, fundamentals of liquidation, case studies and management team information. They added logistics capabilities to let customers rate and book their own transportation online, while using several tariffs.
Other late summer upgrades included a site pal function to help orient visitors, a simplified registration process, a private auction feature and sealed bid capabilities. While a lot of the backend work is done in house, they also tap Logistics Advisors for content management support, and Pink Frog for site design and enhancement.
The company has been using the crème de la crème of analytics vendors, Omniture, Inc. Using emarketing services firms like Omniture, Pink Frog, Logistics Advisors and Impaqt has paid off and truly underscores Auray's style of leaving no stone unturned.
"The more organized you are, the more immediate success you are going to have," he explained. "The other thing that I have learned is that there are incredible analytics available if you just keep asking questions. Keep pushing the people that are supporting you and get inside the marketing. There are so many tools out there that are not expensive. Just look around!"
Email Marketing Delivers Sales
Like most firms, GENCO has been growing its commitment to email marketing, due to the medium's outstanding return on investment potential. The firm does not take any chances, using the reputable, Constant Contact, as its email delivery provider.
Not surprisingly, the firm's marketing staffers have designed their B2B email newsletter in an intelligent fashion. They utilize a company header, a personalized letter from a GENCO salesperson that is complete with contact info, the right-hand sidebar is filled with "Targeted Quick Facts" and the below the fold copy is dedicated to news about available or incoming inventory.
Their targeting is even more impressive. Under Auray's leadership, they have installed a customer registration process that lets the viewer preselect merchandise preferences, so that emails contain items that the person may actually want. For the preexisting names on the list, GENCO sent out an email blast that allowed them to pick specific merchandise options. From that point forward, they would only see messages in their inboxes when the right kind of product enters the warehouse door.
"What we are trying to do is target the pools that are most interested in the product," Auray explained. "Email marketing is absolutely of growing importance to our firm. Our email list has grown by 40 percent."
Modern CRM
If you were to make a checklist of forward thinking tactics and strategies that would signify a modern and successful company, GENCO would have all the markings. Does it have a website that has been recently upgraded? Check. Does the company have an excellent and evolving email program? Check. A great leader? Check. But what about top notch customer service?
"We utilize sophisticated online technology to assist our customers in finding merchandise," Auray said. "Once customers visit our website and start looking around, we learn what they like and start making recommendations based on their shown preferences."
Auray and his team employ an appropriately personal touch. Veteran and recently new customers do not hesitate to call the firm's service team, directed by B2B sales manager, Joe Reilly, to discuss products and individual situations. "We take very seriously our positioning as, 'Your trusted trading site,'" Auray explained. "We are fanatics about being fair and making things right."
For the seasoned executive, who got his undergraduate degree at Princeton and his MBA at New York University, communicating a positive vibe to the customer audience begins on the inside, originating with leadership and personnel management. Undoubtedly, he believes that the right combination of people can weather any storm. Like his hero, Phil Jackson, has proven while winning nine world championships, a meaningfully unified team is tough to beat.
"Part of that is creating a culture that is commitment based, as opposed to fear based, so people love what they are doing and are confident in what they are doing," Auray said. "You have to make sure that they have the training, skills and supervisor support they need to be successful. And when our individuals go out and accomplish what needs to be done, we as a team celebrate the heck out of it."
For more information, contact:
GENCO, Inc.
100 Papercraft Park
Pittsburgh, PA 15238
Toll Free: 800-224-3141
International Phone: 001-412-820-3687
Fax; 425-977-8950
New buyers call: 800-224-3141 (option 2)
New sellers call: 800-224-3141, ext. 2209
Websites: www.genco.com
www.gencomarketplace.com
www.gencomarketplacedirect.com
Auray's Key Teammates:
Dr. Anne Samler, Director of Technology Development.
Don Rendulic, Director of Marketing & Communications.
Peter Carfrae, VP, Sales Development.
Michael Jennings Sr., VP & GM, Buyer Development.
Sue Cessar leads the firm's account management team.
Joe Reilly leads GENCO's B2B sales division.
Entire contents ©2023, Sumner Communications, Inc. (203) 748-2050. All rights reserved. No part of this service may be reproduced in any form without the express written permission of Sumner Communications, Inc. except that an individual may download and/or forward articles via e-mail to a reasonable number of recipients for personal, non-commercial purposes.