INDEPENDENT RETAILER magazine is now the official news outlet for Wholesale Central visitors. Each monthly issue is packed with new product ideas, supplier profiles, retailing news, and business strategies to help you succeed.

See new articles daily online at IndependentRetailer.com.
MY BARGAIN BIN introduces a new line of prayer box bracelets and necklaces that are more upscale than those available elsewhere. They have semiprecious gemstones and come on a sterling silver chain.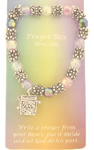 Each piece has a box with a heart shape. The wearer can insert a prayer to be answered. Each comes individually packaged on a card for easy stocking and high impulse appeal. The minimum order is 12 units. The wholesale price is $3.50 a unit, and suggested retail is $7.99.
The company is also introducing a costume jewelry line of "journey" necklaces, which have normally only been available in fine jewelry. The cubic zirconia necklaces come in circular and wavy styles, and according to lore, improve one's journey of life and love. Pricing had not been established by press time. My Bargain Bin is also a source for sunglasses, novelty items, wallets, porcelain dolls and a wide range of jewelry, across a broad spectrum of pricepoints.
For more information, contact:
My Bargain Bin
Two Peachleaf Trail
New Castle, DE 19720
Toll free: 800-431-1389
Tel.: 302-834-4496
Fax: 302-689-4426
Website: www.mybargainbin.com
Entire contents ©2022, Sumner Communications, Inc. (203) 748-2050. All rights reserved. No part of this service may be reproduced in any form without the express written permission of Sumner Communications, Inc. except that an individual may download and/or forward articles via e-mail to a reasonable number of recipients for personal, non-commercial purposes.