INDEPENDENT RETAILER magazine is now the official news outlet for Wholesale Central visitors. Each monthly issue is packed with new product ideas, supplier profiles, retailing news, and business strategies to help you succeed.

See new articles daily online at IndependentRetailer.com.
Remember those stories in the late 1990s about Internet startups and their employees, working nearly around the clock, catching brief snoozes on the office floor and dreaming of their big IPO on Wall Street? Even though most of those firms are not around today, they had the right idea, in terms of collecting a committed crew that was willing to go the extra mile to help a new business succeed. Often, that is exactly what it takes.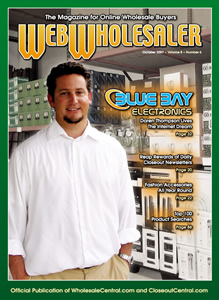 With a similar sense of entrepreneurialism, Daren Thompson had an idea a few years back that he could not help but attack with everything he had. After years of running successful UPS franchises and becoming a bit of a logistics expert, he was increasingly intrigued by the idea of selling a wide range of products over the Internet. So he recruited his friend and future COO, Doug Lincicome, and they laid the foundation for what would later become an expeditiously emerging name brand electronics wholesaler and retailer in Blue Bay Electronics.
Thompson and Lincicome took it one step at a time. For instance, in the beginning, they did not quit their day jobs. They were classic moonlighters, using spare hours to research the best products, and sell them on eBay. As the side project grew into a legitimate business, Thompson focused on purchasing and the general direction of the company, while Lincicome dealt with selling and implementing the operational processes. Meanwhile, Thompson saw that there was a demand to make eBay shipping and selling easier for both the sellers and buyers, and he and Lincicome began to sell consignment items on the auction site for other people.
By charging a minimal fee, they were able to help clients sell more items to more people with greater efficiency. Once they streamlined the eBay process, they began to branch out and sell products on their own. Over time, the pair began to specialize in new and refurbished electronics, cell phones and computer accessories, among others. It should be stated that, "over time," was little more than one year. "The business has grown tremendously fast since day one," Lincicome said. "Daren and I did as much as we could on our own, working long hours. Eventually we started hiring employees, after realizing that we were really onto something with the business concept."
After consolidating the product base and specializing in electronics, Blue Bay has become a master of the trade. In fact, they have achieved a 300 percent sales growth this year compared to 2006. "I never dreamed we would be selling well over a million dollars a month on eBay alone," Thompson said from their facilities in Franklin, TN.
Beyond the company's eBay sales, Blue Bay also sells through other internet channels, including its website, www.bluebayelectronics.com. The firm has been able to achieve its astounding growth by instilling an organization wide enthusiasm that is reminiscent of the dotcom pioneer spirit.
"When I am not working, I am sleeping," said a chuckling Robin Davis, VP of Purchasing & Vendor Relations. "But I am committed to the work because I love it. I treasure playing a part in our overall successes."
But make no mistake about it: Blue Bay Electronics is no boom or bust idea. Simply put, Thompson and Lincicome put together a fantastically sound business plan, and their combination of intelligence and hard work are already equating into big time profits.
"Our amazing growth is not just luck," Thompson explained. "Our team has dedicated countless hours to contribute to our incredible success. It is my greatest hope that we will continue to offer the absolute best prices to consumers and wholesalers, and keep our product line growing."
The Hottest Electronics
When it comes to their products, the company always supports American manufacturers and distributors first. If they cannot get a product from the U.S., which is rare, they import from Canada. In addition, they carry numerous name brand electronics such as Apple, Sony, Fuji, Olympus, Magellan, Motorola, TomTom, Garmin, Nintendo and Microsoft.
Unsurprisingly, the firm's big seller as of late has been the white hot Apple iPod. As one example, its 2 gigabyte iPod Nanos wholesales for $90 (suggested retail $149) at www.bluebayelectronics.com. The company also offers the Garmin Nuvi 350 GPS Car Navigation System for $320 wholesale (suggested retail $536). Additionally, they have the immensely popular Sony PS3 that wholesales at $415 and normally retails at $499.
"We spend a great deal of time researching our competitors, and before we buy or sell, we see where we stand in the marketplace," Thompson said. "We strive to be the most affordable electronic wholesaler on the market. It is our goal to offer the best prices on the Internet. Some competitors do not like that about us, but we are proud to offer the lowest pricing."
For retailers and other buyers looking to cash in on even bigger margins, Blue Bay offers refurbished electronics that have not only been fixed, but have been triple inspected before they are listed for sale. Specifically, the items are combed over by a certified refurbishment center after repair, and then sent to a company owned quality control department for another inspection. From the internal workings to the external cosmetics, every product is ensured to be in tiptop condition. "If we find a product we would not want our name attached to, then we do not sell it," Thompson explained.
His firm will soon be moving into a 30,000 square foot warehouse facility, which dwarfs the 1,200 square foot space where they started. Only a year ago, Thompson, Lincicome and Davis operated the skinniest of skeleton crews, but have now grown to 15 fulltime employees. "Not only does the right combination of employees create employee satisfaction, it helps us work together to deliver the best products," Thompson explained. "We really value integrity. Our employee team consists of handpicked, carefully chosen candidates. By building strong relationships within our business, we are able to build strong relationships with our customers. Many businesses today lack a personal touch, and we hope that will set Blue Bay Electronics apart."
Email & Live Chat
Thompson and Lincicome have consistently leaned on their gift for out of the box thinking to grow the company as quickly as they have. In one example, they have implemented a savvy email program to turn their 20,000 customers into consistently repeating buyers. The company's Deal of the Week email newsletter highlights one specially priced item, and is followed by nine more product image supported deals. In addition, they use a coupon at the bottom of the design, allowing the recipient to copy the code and reenter it during purchase at www.bluebayelectronics.com.
"We are very excited about the email marketing we have done because we can see instant trackable results," Davis said. "If the customer is already happy with our customer service and products, we find that a gentle email reminder of our ongoing specials and offers helps boost sales immediately. We never want to leave money on the table, and proper communication ensures that we are able to assist our customers in a timely manner."
Meanwhile, the website has recently implemented a live chat feature that builds on the, "Need Help," button they have been employing for the last 15 months. The firm's customer care unit that handles phone calls and emails will also take care of real time chat inquiries.
Diving Deeper into Blue Bay
As Thompson acknowledged earlier, the entire team has been constantly trying to catch their breath, due to their whirlwind rate of growth. From the executive level down to customer service, each staffer has made sacrifices for the good of the whole.
For instance, Thompson is a big fan of jazz music, as well as the local football teams, the Tennessee Titans (pro) and Volunteers (college). He is also an avid reader, listing, "Don't Worry, Make Money," and, "Don't Sweat the Small Stuff," both by Richard Carlson, as his favorite books. But with the business taking off, he has had to cut back on such extracurricular activities in order to make time for his family at home.
He and his wife, Lisa, have a daughter, Emily, 11, and a son, Chandler, 8, not to mention a family cat and dog. In a typical day, Thompson wakes up, has a cup of coffee and begins working at 7 a.m., and stays at it until 7 p.m. or later. He credits Lisa as the biggest key to his success. "She lets me focus on what I do best. She is a great mother and a true source of moral support."
Thompson believes another integral part to his success lies in knowing how to effectively identify each staffer's talents, and find the right area for him or her. In a way, that explanation helps underscore why everyone is starting to talk about the firm: It has common sense leadership, a dedicated, appreciated team and a gung ho entrepreneurial spirit. Indeed, Blue Bay has completed the full equation for what makes a great business idea pan out.
"It is important that our employees feel a sense of ownership, and we help our employees grow with the company by rewarding hard work and dedication," Thompson said. "We work hard to create financial stability and security for all of our team members. I can work as long as I am awake, and the sky is the limit. The new challenges of such a quickly growing company help keep us all on our toes, and the shared sense of success is truly wonderful."
For more information, contact:
Blue Bay Electronics
2000 Mallory Lane Suite 130-501
Franklin, TN 37067
Tel.: 877-499-6210 ext: 738
Website: www.BlueBayElectronics.com/wholesale
Entire contents ©2023, Sumner Communications, Inc. (203) 748-2050. All rights reserved. No part of this service may be reproduced in any form without the express written permission of Sumner Communications, Inc. except that an individual may download and/or forward articles via e-mail to a reasonable number of recipients for personal, non-commercial purposes.