INDEPENDENT RETAILER magazine is now the official news outlet for Wholesale Central visitors. Each monthly issue is packed with new product ideas, supplier profiles, retailing news, and business strategies to help you succeed.

See new articles daily online at IndependentRetailer.com.
DUNE CRAFT introduces "Windowsill Greenhouse," offered in 11 different styles and individual themes. Each is patterned after an historic greenhouse or conservatory of a famous tycoon, and each contains seed packs, decorative gravel, figurines and other decorative elements related to the theme.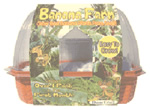 The units measure approximately eight inches long, four inches deep and seven inches high with the top on. They have a terra cotta base and a removable, clear, thermoformed plastic top.
All of the components are made in the U.S. All the seeds are suitable to sprout and grow in a terrarium. The company also guarantees its products will grow, and the packages include photography that shows what the greenhouse will look like when fully grown.
The themes are designed to attract people, and especially children, to gardening. Among them are the Princess Garden, Dinosaur Park, Dragon's Lair, Dessert Hot House, Banana Farm, and Tropical Oasis. Another, Healing Garden, contains aloe, hyssop and eucalyptus, which all have healing qualities. Another, named Three Carnivores, contains Venus Fly Traps, Pitcher Plant Predators, and Sundew Savages.
The minimum order is a case of 12 units, and first orders can be assorted themes. The wholesale price is $7.50 a unit, and suggested retail price is $14.99.
For more information, contact:
Dune Craft
P.O. Box 808
Chagrin Falls, OH 44022
Toll free: 800-306-4168
Toll free fax: 800-306-4167
Website: www.dunecraft.com
Entire contents ©2021, Sumner Communications, Inc. (203) 748-2050. All rights reserved. No part of this service may be reproduced in any form without the express written permission of Sumner Communications, Inc. except that an individual may download and/or forward articles via e-mail to a reasonable number of recipients for personal, non-commercial purposes.