INDEPENDENT RETAILER magazine is now the official news outlet for Wholesale Central visitors. Each monthly issue is packed with new product ideas, supplier profiles, retailing news, and business strategies to help you succeed.

See new articles daily online at IndependentRetailer.com.
East Lake Wholesale announces an exciting new line of unique wine bottle nightlights to compliment their line of American Made Incense and Smoking Bottles. Standard 750ml wine bottles are used to create both the lights and Smoking Bottles. There are over 130 designs, and East Lake is looking for customer feedback to increase that number.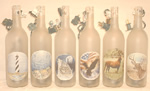 Company owner, Mark Wittwer, says that because of the uniqueness of the product, along with a high mark up (over 100%)and the collectability of the design themes, customer satisfaction is high. East Lake Wholesale is working overtime to meet demand. "We have a good idea of what the public is interested in as far as collectable themes, and we offer plenty of choices for most any gift shop or retail environment. Some of our hottest sellers are lighthouses, wolves, apples, grapes, sunflowers, hummingbirds, eagles, horses, and native American and nautical themes", said Wittwer
The artwork is applied to a thin transparent film, which when affixed to the bottle, allows the light from the 10 miniature lights inside the bottle to 'glow' through the design. This creates a unique lighting device that can be used in most any room in the home, from bedrooms and bathrooms to family rooms, living rooms and kitchens. The old country outhouse is a big hit with retailers that carry the Adirondack theme.
The wholesale cost of each light is $8.99, with suggested retail of $19.99. All wine bottle lights are packed 12 pieces per case, mix or match, or 12 piece starter pre-packs are available in the following themes: Lighthouses, Nautical, Grapes, Country and Adirondack. The initial stocking order is 1 piece each of 24 different designs, with reorders being as few as 12 pieces. Approximately 75% of the line is done on frosted bottles, which give off the most light. Also offered are Cobalt Blue, Ruby Red, Champagne Green and Cranberry Pink bottles with color coordinated designs.
The Smoking Bottles are done on Cobalt Blue bottles with the same 130 plus designs, available with wildlife, nautical and celestial themes (the most popular). Smoking Bottles wholesale at $5.99 each and retail up to $14.99 ea. They are sold in full case lots of 12 pieces and include a gold split ring for suspending the incense stick inside the bottle.
All products are manufactured in Auburn, NY, including the company's own high quality line of stick incense, which wholesales at $5.00 per bundle of approximately 100 sticks, with a retail price of 25 sticks for $3.00, or 15 cents individually.
East Lake is currently constructing a storefront at wholesalecentral.com. A "Contact Us" button and an email link is available on their company profile page at wholesalcentral.com/eastlakewholesale.
For more information contact:
East Lake Wholesale
34 S. Marvine Ave
Auburn, NY 13021
Tel.: 315-253-9542
Website: www.wholesalecentral.com/eastlakewholesale
Entire contents ©2023, Sumner Communications, Inc. (203) 748-2050. All rights reserved. No part of this service may be reproduced in any form without the express written permission of Sumner Communications, Inc. except that an individual may download and/or forward articles via e-mail to a reasonable number of recipients for personal, non-commercial purposes.