INDEPENDENT RETAILER magazine is now the official news outlet for Wholesale Central visitors. Each monthly issue is packed with new product ideas, supplier profiles, retailing news, and business strategies to help you succeed.

See new articles daily online at IndependentRetailer.com.
WOWINDOWS LLC offers themed art, printed on a plastic film, that goes over windows and illuminates the illustrations from the interior house lights after dark, and from sunlight during the day. Initially created with Halloween themes, WOWindows are now also offered in four for Christmas themes and a single, "Old Glory," illustration.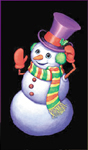 WOWindows are full color, three by five foot, translucent illustrations, printed by a special process that gives them opacity. Included in each WOWindow are four removable adhesive squares, one for each corner of the window. Simply apply the adhesive squares, then put the WOWindow in place. The adhesive squares leave no sticky residue when removed.
WOWindow can fit any window from 24 by 36 inches to 36 by 60 inches. The unit fills all of the larger window, but is trimable to close in further on the same image when it is applied to a smaller window; in effect, creating more of a close up of the image.
The four Christmas images are: Santa, Dashing Reindeer, Snappy the Snowman, and Christmas Tree. Each, including, "Old Glory," comes folded in a 10 by 17 inch polybag, which carries an illustration of the artwork as it looks when it's installed on a window.
The minimum order is 24 units. A countertop displayer that can hold 36 units is offered free with an order of 24 pieces. A floor stand with four bins, one for each of the Christmas designs, is also available with orders of 48 units or more.
The wholesale cost is $4.50, and the suggested retail price is $8.99. WOWindows can be removed, folded and reused year after year.
For more information, contact:
WOWindows LLC
P.O. Box 581
Cranford, NJ 07016
Toll Free: 866-969-1011
Tel.: 908-272-1011
Fax: 908-272-5994
Website: www.wowindows.com
Entire contents ©2023, Sumner Communications, Inc. (203) 748-2050. All rights reserved. No part of this service may be reproduced in any form without the express written permission of Sumner Communications, Inc. except that an individual may download and/or forward articles via e-mail to a reasonable number of recipients for personal, non-commercial purposes.