INDEPENDENT RETAILER magazine is now the official news outlet for Wholesale Central visitors. Each monthly issue is packed with new product ideas, supplier profiles, retailing news, and business strategies to help you succeed.

See new articles daily online at IndependentRetailer.com.
HYDRO-SPORT introduces the Wrist Water Bottle, a specially designed water bottle that fits on the wrist. It's a way to carry water, quench thirst and prevent dehydration, hands free, without having to carry a bottle.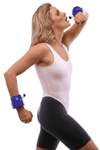 Units are made of polypropylene and fit on wrists with Vel-Stretch, a stretchy Velcro, so they can be adjusted for comfort. They come in pairs. The adult version is approximately three inches across and can contain 11 ounces of liquid. It weighs a half pound when full and is offered in five colors: red, blue, purple, pearl and neon green. A slightly smaller children's version holds eight ounces and comes in two colors: aqua and hot pink.
Wrist Water Bottle, when full, also acts as a weight to improve upper body strength, while also running or jogging. It can be frozen, in order to keep down body temperature. Simply take off the integral cap, pull up the top, and drink. The units don't leak.
The minimum order is 50 pair. As a special to Cover readers, the wholesale cost is $3.50 a pair. The suggested retail price is $6.99 to $9.99 a pair. They are shipped with a free shelf displayer that holds a dozen pair. Retailers have a choice of obtaining the free displayer, a logo T-shirt or cotton tote bag.
For more information, contact:
Hydro-Sport
11301 Olympic Blvd., # 503
Los Angeles, CA 90064
Tel.: 310-473-7036
Website: www.hydrosport-usa.com
Entire contents ©2023, Sumner Communications, Inc. (203) 748-2050. All rights reserved. No part of this service may be reproduced in any form without the express written permission of Sumner Communications, Inc. except that an individual may download and/or forward articles via e-mail to a reasonable number of recipients for personal, non-commercial purposes.