INDEPENDENT RETAILER magazine is now the official news outlet for Wholesale Central visitors. Each monthly issue is packed with new product ideas, supplier profiles, retailing news, and business strategies to help you succeed.

See new articles daily online at IndependentRetailer.com.
KC CREATIONS INC. offers X-ing Signs that replicate the yellow road signs, such as deer crossing, often seen along the highway. There are 220 different images on the signs available from KC Creations. That includes depictions of 120 different dog breeds, plus many farm animals, a cat, a kitten, wild life, sports practitioners, tractors, bicycles and novelty images. The signs are 10.5 inches square, but in a diagonal shape. They are of durable yellow plastic, and the artwork on all is very clear, clean and immediately recognizable. The signs have a punch hole, so they can be hung up on a single nail or screw.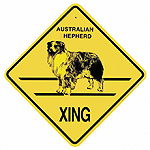 The minimum order is $100, and can include a mix of any of the company's products. The X-ing Signs are offered in a six foot tall spinner rack that contains 48 pockets. Multiple signs can fit in each pocket, and the pocket allows a large, recognizable portion of each sign's image to show. In all, the unit holds about 1,000 signs. A starter pack combines the spinner rack with six each of the 40 most popular dog images, plus eight miscellaneous images. In addition to the rack, stocked with 288 units, the company includes another 48 signs for free, taking the total wholesale cost to $716. The typical retail return would be $1,680.
KC Creations will choose best sellers for the display, or retailers can select their own mix of images. There is no minimum order for refills. The wholesale cost is $2 per sign, and the suggested retail price is $5 and up.
For more information:
KC Creations
8526 Innsbrook Lane
Springfield, OH 45066
Tel.: 937-748-8181
Fax: 937-748-8446
Website: www.kccreationsinc.com
Entire contents ©2022, Sumner Communications, Inc. (203) 748-2050. All rights reserved. No part of this service may be reproduced in any form without the express written permission of Sumner Communications, Inc. except that an individual may download and/or forward articles via e-mail to a reasonable number of recipients for personal, non-commercial purposes.