INDEPENDENT RETAILER magazine is now the official news outlet for Wholesale Central visitors. Each monthly issue is packed with new product ideas, supplier profiles, retailing news, and business strategies to help you succeed.

See new articles daily online at IndependentRetailer.com.
TTALF TOYS has extended its line of Yackle Ball, the X shape aerodynamic toy that makes playing catch easy and fun, for people of all ages. "Night Yackle," which glows in the dark, joins the original Yackle Ball and Yackle Ball Junior.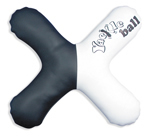 All are made of marine vinyl and stuffed with three blends of fiberfill. They are sturdy and build momentum as they spin, yet are harmless and don't hurt players who fail to catch them. The X shape makes them easy to catch. The combination of characteristics allows Yackle Ball to build confidence among non athletes, while still appealing to more athletic players.
The original Yackle Ball is designed for all, from school age on up. It comes in a choice of 10 colors. Yackle Ball Junior is 25 percent smaller and lighter than the original. It comes in a choice of four colors. Designed for children between the ages of two and six, it has also won favor among senior citizens and kids with special needs.
Night Yackle is the same size as the original, and is blue and silver. Its light is charged by direct sunlight or a regular light bulb. This unit comes with glow in the dark wrist bands, so players can see each other, as well as Night Yackle in the dark. All versions come with instructions for as many as 17 different games. The Yackle series is made in the U.S.
The minimum order for the original and Night Yackle is a case of 10 Units. Yackle Ball Junior comes in a case of 12 units. Orders can include an assortment of colors, but each case must contain like product. Reorders for all are in six packs. The wholesale price for the original Yackle and Yackle Ball Junior is $10, and suggested retail is $19.95. The wholesale cost for Night Yackle, including two wrist bands, is $15, and suggested retail is $29.95. Additional packets of two glow in the dark wrist bands wholesale for $3.50, and have a suggested retail price of $6.95.
For more information:
Ttalf Toys
P.O. Box 5218
Mooresville, NC 28117
Tel./Fax: 704-360-4721
Website: www.yackleball.com
Entire contents ©2022, Sumner Communications, Inc. (203) 748-2050. All rights reserved. No part of this service may be reproduced in any form without the express written permission of Sumner Communications, Inc. except that an individual may download and/or forward articles via e-mail to a reasonable number of recipients for personal, non-commercial purposes.