INDEPENDENT RETAILER magazine is now the official news outlet for Wholesale Central visitors. Each monthly issue is packed with new product ideas, supplier profiles, retailing news, and business strategies to help you succeed.

See new articles daily online at IndependentRetailer.com.
YOGAPRO has introduced YogaToes, a new patented product that helps straighten bent toes and alleviate foot pain caused by tight shoes, high heels and overexertion. YogaToes accomplishes its cure with passive exercise.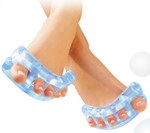 YogaToes is a pair of plastic cushions, filled with a proprietary gel ingredient. Simply place in water for a few minutes in order to make them slip onto toes easily. YogaToes separates the toes, and cushions and surrounds each one. They stretch cramped feet, strengthen and align foot muscles and increase circulation. They can provide relief in as little as five minutes of wear. It is recommended that they be worn from five to 15 minutes, but they can be worn up to an hour or more. They restore feet that have been subjected to the stress of high heels, too much time standing at work, dancing or playing sports. Some people see results immediately. Others may take longer, and the more times YogaToes are worn, the more noticeable the benefits. YogaToes are available in a choice of eight colors: sapphire, pink, crystal, black, metallic lilac, orange, green apple and silver. They are offered in small, which is designed to fit most women, and medium, designed to fit most men. The suggested retail price is $49.95. For more information on minimum orders and wholesale pricing, contact:
YogaPro.com
P.O. Box 7612
Ann Arbor, MI 48107
Toll Free: 877-964-2776 or 800-488-8414
Fax: 123-123-1234
Website:
www.yogapro.com
Entire contents ©2023, Sumner Communications, Inc. (203) 748-2050. All rights reserved. No part of this service may be reproduced in any form without the express written permission of Sumner Communications, Inc. except that an individual may download and/or forward articles via e-mail to a reasonable number of recipients for personal, non-commercial purposes.