INDEPENDENT RETAILER magazine is now the official news outlet for Wholesale Central visitors. Each monthly issue is packed with new product ideas, supplier profiles, retailing news, and business strategies to help you succeed.

See new articles daily online at IndependentRetailer.com.
FLYING INSECT has introduced two versions of an electric fly swatter. One is low powered and designed primarily to kill mosquitoes, and its high powered counterpart kills wasps and bees. Both zap flies.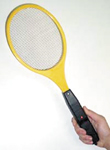 The units resemble tennis racquets and are approximately 16 inches long. They operate on two AA batteries (not included) and will last a full season. The units electrify at the push of a button. They are ideal for use in houses, tents, on boats and outdoors, and they wave down insects in mid air. The high powered unit has three layers, and the outer layer protects the user from shock. Both carry warning stickers indicating that the units will spark against metal, even though they are harmless to humans.
There is no minimum order. However, retailers that call the company can obtain a free membership, which entitles them to a members' wholesale price of $10.99 on an order of a single unit. The suggested retail is $20. Volume orders can be a mix of high and low powered units. On orders of five units, the wholesale cost falls to $7.99. On orders of 15 units, it drops to $6.99. For a case of 30 units, wholesale is $4.99.
Two special offers are provided for the month of April only. The cost of an order of 15 units is $100. Orders for a case of 30 can be customized for free, to carry a sticker with two lines indicating the retailer's name and phone number.
For more information, contact:
Flying Insect
191 Van Horn Road
Hughesville, PA 17737
Toll Free: 800-898-3918
Tel.: 570-244-2307
Websites: www.flyinginsect.com and www.bestqualitytoys.com
Entire contents ©2022, Sumner Communications, Inc. (203) 748-2050. All rights reserved. No part of this service may be reproduced in any form without the express written permission of Sumner Communications, Inc. except that an individual may download and/or forward articles via e-mail to a reasonable number of recipients for personal, non-commercial purposes.