INDEPENDENT RETAILER magazine is now the official news outlet for Wholesale Central visitors. Each monthly issue is packed with new product ideas, supplier profiles, retailing news, and business strategies to help you succeed.

See new articles daily online at IndependentRetailer.com.
"You could say a lot of different experiences helped me get to where I am today," says Lou Monachello, President of Galaxy Distributors. Indeed, Monachello saw an array of worlds before founding his novelties and gifts wholesaling business on Long Island, NY, in 1989. After a year at Farmingdale State College in the 1960s, he served in the Air Force for four years, spending a year and a half on the Grecian island of Crete during the Vietnam War.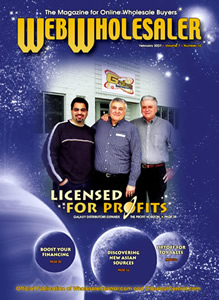 Monachello also put in a year at a community college in Alabama, before landing a few gigs in a profession he aspired to, ever since picking up a guitar in his youth. For a few years, he played with such rock 'n' roll luminaries as Frankie Valli and the Four Seasons, Neal Sedaka and the Del Vikings, among others. He either backed them up live or sat in on recording sessions. "It was fun and interesting," said the Queens, NY, native. "But playing music also got me interested in electronics and the things I could accomplish within that realm."
After experiencing enough showbiz, and looking to settle down with something more stable, Monachello worked briefly for a telephone company before starting his own electronics business. It was there he cut his teeth as a salesman and marketer, and his confidence grew along the way.
"Eventually, I wanted to get off the electronics bench for at least a day a week," Monachello said. "So I started selling sunglasses to carwashes and beauty parlors. I said to myself, 'I can sell sunglasses.' Then they started asking if I could get batteries, toy cars and umbrellas. Questions kept on popping up, and I kept expanding to fill in the gaps. Basically, my career as a distributor has kind of built up like that, step by step."
As it turned out, many types of stops along the way have served a purpose and prepared him to steer one of the wholesale industry's leading providers of diecast cars, hats, licensed sporting goods and other hot novelties. Galaxy Distributors in recent years has seen an enviable annual growth of 30 percent, due to a wide ranging client base that was born offline, and online at www.wholesalecentral.com/galaxy.
"We are like a lot of companies where we are trying to build our business day by day," Monachello said. "We really try to emphasize customer service with our sales team and with the way we handle operations. But product is always extremely important as well, and we are very excited about some of the things we believe will be hot this year."
Out of This World Products
While Monachello and his company partner, Darren Cash, vice president have at least considered the idea of establishing a unique Galaxy Distributors URL, they are seeing the kind of results at their WholesaleCentral.com storefront that keep them happy about the direction of their Internet business.
"While we actually just had an especially good year offline in 2006, we are as interested in growing sales at the web store as we have ever been," Monachello said. "You have to give your customers as many ways to find you as possible. The Internet allows them another avenue of learning about your products."
One of the most memorable products for Galaxy Distributors over the years was the Pokemon toy in 2000. Monachello called the product, "a turning point," for his then 11 year old firm. By taking advantage of the market demand, he said he was able to bring the company to a new level. It is an example how one hot product can mean everything to a business; even one with a bevy of successful lines like Galaxy Distributors.
Specifically, in the licensed sports category at www.wholesalecentral.com/galaxy, you can find products like stylish fuzzy team slippers ($96 per dozen) adorned with emblems of clubs like the New York Islanders, or an increasingly popular item like the Snow Globe ($20 per dozen) for baseball's World Champion St. Louis Cardinals and other Major League teams.
The latter example uses the traditional look and feel of a shakeup snow globe/dome (normally found with a picturesque scene inside the globe) and applies it to baseball. The 5" x 5" x 5" tabletop item includes a baseball glove holding the globe, which in this case offers a glimpse of the team's stadium.
"It was one of our hottest items of the holiday season, as we completely ran out just before Christmas," Monachello said. "It was an item we think no one else had. We did all of the most popular teams like the Cardinals, New York Yankees and Mets, Chicago White Sox and Cubs, Boston Red Sox and Detroit Tigers. It should be one of our big product lines heading into the next holiday season."
But before the next yuletide season comes calling, the crew at Galaxy Distributors has high hopes for its, "Hatch 'Em Growing Easter Egg Bunny," product for this spring. Because the firm has already seen the fun product sell in terms of a more general line of dinosaur and lizard eggs, it feels confident about the item for Easter (April 8th this year).
The item is being showcased in an array of pastel colors and comes in the character of a bunny or chick at www.wholesalecentral.com/galaxy (search for items #69010200779 and 69010200780). Monachello said that the strength of the product is the way it allows children to interact with it.
"What you do is take the egg and put it in a glass of water," he said. "The egg cracks and hatches, and then an animal appears. The animal will grow about three or four inches, with the process taking a day or two. It is a hard, rubber animal that will be fun and safe for kids to play with. We just got in a jumbo sized egg that is really neat, too."
Galaxy Stars with Clients
While Galaxy Distributors continually builds on its small and medium client base, the company in the last two years has greatly benefited from relationships with big brands like 7-Eleven stores, Walgreen's and CVS Pharmacy. The firm's overall plan includes establishing the most diverse customer portfolio possible.
"We do a lot of our business with smaller retailers at WholesaleCentral.com," Monachello said. "And more generally speaking in the last year, we have increased our business in sports goods. It has been huge for us. But we also service around 1,500 stores for 7-Eleven stores right now. Our relationships with Walgreen's and CVS are growing as well. For instance, CVS is going to take part in our Hatch 'Em Easter Egg product program. These bigger clients have understandably meant a lot to our company as a whole."
Monachello gives much of the credit for the larger accounts to his partner, noting that the two were once competitors, when Barshaw's business skills caught his eye. Since he wanted to slow down a bit and share the company's responsibilities with someone he respected and trusted, Monachello invited the younger "firecracker" into the firm in 2001.
"I have to give Darren a lot of credit, as he was very instrumental in bringing in the bigger accounts like 7-Eleven stores and Walgreen's," Monachello said. "He was in the printing business when I first ran across him. He has been an excellent addition to our company, and it is one of the best things I could have done when looking back on it now. In addition, the two of us are always looking for ways of improving the business. We take service seriously, and the customer always comes first."
Behind the Scenes
Galaxy Distributors' commitment to the customer is evident in the way it has set up a sophisticated sales/service/fulfillment system. For instance, due to both revenue growth and a commitment to improvement, the company has changed warehouses twice over the years and now resides in a facility that is easily three times larger than the original.
In the latest building (three years old), the company utilizes a pair of loading docks, a showroom and a photography room that is used for marketing pictures to be put up on WholesaleCentral.com/galaxy and in brochures. Monachello said the latest setup is much more streamlined than its predecessors.
"The old warehouse system was divided into two buildings, and it was killing us," he said. "It was not an efficient way compared to what we have now. It was so much more work before. Now, orders that come in the morning usually go out the same day. Plus we have high ceilings in the current building that almost give us a second level of warehouse space."
Galaxy Distributors employs a team of five telephone sales reps that are located in Wisconsin, Tennessee and California. Though operating remotely, they are tied into the company administration/web system, which allows them to input orders seamlessly. Faxes are not needed, saving on paperwork, and the one year old process takes two steps less than the one it replaced.
The reps normally call the 7-Eleven stores, Walgreen's and CVS outlets every week to take their orders. This sales system allows reps to communicate with the stores on a more local basis, talk their language so to speak, and not run into problems like time zone issues.
"They let our customers feel like there is someone near enough to them to help them with their needs," Monachello said. "I am not sure if it would work as well if our office was calling to the Midwest and California stores, when you consider all of the things that go into it. It is good to have that kind of regional support."
Meanwhile, the crew back on Long Island sets the stage for those sales efforts. And with Monachello, Cash and Steve our treasurer fronting the band, Galaxy Distributors just keeps on rockin!
For more information, contact:
Galaxy Distributors
1691 B Church St.
Holbrook, NY 11741
Tel.: 631-563-3990
Toll Free: 888-281-2789
Fax: 631-563-4066
Website: www.wholesalecentral.com/galaxy
Entire contents ©2022, Sumner Communications, Inc. (203) 748-2050. All rights reserved. No part of this service may be reproduced in any form without the express written permission of Sumner Communications, Inc. except that an individual may download and/or forward articles via e-mail to a reasonable number of recipients for personal, non-commercial purposes.