INDEPENDENT RETAILER magazine is now the official news outlet for Wholesale Central visitors. Each monthly issue is packed with new product ideas, supplier profiles, retailing news, and business strategies to help you succeed.

See new articles daily online at IndependentRetailer.com.
KINROAD LP introduces the 250 Racer, a go cart with a 250cc, 18 horsepower engine that can carry two people, totaling up to 500 pounds. The racer comes in a choice of four colors: red, blue, black or silver.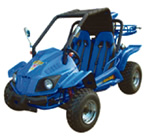 The racer measures approximately 96 inches long by 55 inches wide and 58 inches high. Among its features are a hydraulic disk brake and four point safety seatbelt. It is powered by gasoline and can travel at up to 48 miles per hour. It's fully automatic and can also operate in reverse.
The company supplies a variety of all terrain vehicles, including motorcycles, as well as go carts. The minimum order is $5,000. The wholesale price for the 250 Racer is $2,299 a unit. The suggested retail price is $4,000 a unit.
For more information, contact:
Kinroad LP
1210 Champion Circle, Ste. 120
Carrollton, TX 75006
Toll free: 888-883-8986
Tel.: 469-461-8886
Fax: 469-461-8889
Website: www.kinroadusa.com
Entire contents ©2021, Sumner Communications, Inc. (203) 748-2050. All rights reserved. No part of this service may be reproduced in any form without the express written permission of Sumner Communications, Inc. except that an individual may download and/or forward articles via e-mail to a reasonable number of recipients for personal, non-commercial purposes.