INDEPENDENT RETAILER magazine is now the official news outlet for Wholesale Central visitors. Each monthly issue is packed with new product ideas, supplier profiles, retailing news, and business strategies to help you succeed.

See new articles daily online at IndependentRetailer.com.
JUST FOR FIVE leads its product mix with approximately a dozen different iPod accessories, and true to the company name, they and all its other products wholesale for $5 or less. Its iPod headphones, for example, wholesale for $3.99 a unit, and the suggested retail price is $19.99.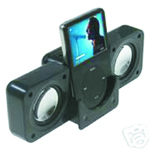 There are iPod earbuddies in pink or blue at $3.99 a unit and they also carry a suggested retail of $19.99. Heart shaped iPod speakers in a choice of colors, a topper micro iPod speaker, a GoStereo foldable iPod speaker, clip on iPod speakers in pink or blue, and iPod cases also wholesale at $5. Suggested retail prices are $19.99 to $24.99.
These are all in addition to approximately 200 other items offered at $5 wholesale. Among the additional items are sports licensed logo bags, Spiderman 3 comic watches, poker sets, bangle watches for boys and girls, chargers, hats and a girl's princess music MP3. A men's Marvel Punisher watch wholesales for $1.99 a unit and has a suggested retail price of $14.99.
There is no minimum order. For more information, contact:
Just For Five
3500 Sunset Avenue
Ocean, NJ 07712
Toll Free: 888-643-0825
Tel.: 732-643-0825
Fax: 732-643-0828
Websites: www.justforfive.com and www.justfor5.com.
Entire contents ©2021, Sumner Communications, Inc. (203) 748-2050. All rights reserved. No part of this service may be reproduced in any form without the express written permission of Sumner Communications, Inc. except that an individual may download and/or forward articles via e-mail to a reasonable number of recipients for personal, non-commercial purposes.