INDEPENDENT RETAILER magazine is now the official news outlet for Wholesale Central visitors. Each monthly issue is packed with new product ideas, supplier profiles, retailing news, and business strategies to help you succeed.

See new articles daily online at IndependentRetailer.com.
CSB COMMODITIES INC. introduces, "The Ex," a knife holder patterned after a human form, to lighten up meal making and draw attention at any party. It comes with five stainless steel knives.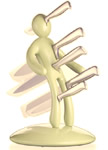 The human form, which combines humor with utility, is made of tough ABS plastic and stands a little more than 15 inches tall. Each of the five knife slots has an interior sleeve to protect the blades, and the unit utilizes a suspension system that prevents the knives from slipping.

Each set includes an eight inch chef knife, an eight inch bread knife, an eight inch carver, a five inch utility knife, and a three and a half inch paring knife. All are of heavy gauge, durable stainless steel with razor sharp cutting blades and hollow handles.
The Ex is offered in a choice of five colors: the original red, stainless steel color, black, apple green and pink, along with an upscale, premium chrome color unit.
On an initial order, the company will provide a sample of 20 sets. The typical minimum order is a pallet of 84 units, and it can contain an assortment of colors. The four colored units wholesale for $42 a unit, and the chrome plated wholesale for approximately $57 a unit. Wholesale pricing on large orders can be negotiated.
The suggested retail price for regular units is between $59.99 and $99.99. The chrome plated model generally retails for a $40 premium over the price of the other four models.
CSB Commodities Inc.
1400 Old Country Road Ste. 301 A
Westbury, NY 11590
Toll Free: 800-318-1039
Tel.: 516-997-6067
Fax: 516-997-2414
Email: ads@csbcommodities.com
Website: www.gettheex.com
Entire contents ©2023, Sumner Communications, Inc. (203) 748-2050. All rights reserved. No part of this service may be reproduced in any form without the express written permission of Sumner Communications, Inc. except that an individual may download and/or forward articles via e-mail to a reasonable number of recipients for personal, non-commercial purposes.