INDEPENDENT RETAILER magazine is now the official news outlet for Wholesale Central visitors. Each monthly issue is packed with new product ideas, supplier profiles, retailing news, and business strategies to help you succeed.

See new articles daily online at IndependentRetailer.com.
WORKSHOPLIVE offers a trio of gift cards that provide access to music lessons over the Internet. There are actually 1,600 different interactive lessons at the website that gift card holders can access.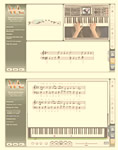 They apply to guitar, keyboard, electric bass and drums. The lessons range from beginner to advanced, and cover acoustic, rock, blues, jazz and folk, among other types, and also include more than 100 popular songs, such as, "Stairway to Heaven," and others.

There are more than 50 teachers, and a subscriber can see videos of each. The video not only shows how that teacher plays, but also how the teacher instructs. Teaching is done either for auditory learners, or for those who are better at visual instruction.
More than one teacher offers nearly all of the lessons, so members using the card can choose the one they feel most comfortable with. The website also includes master review and music related products, to represent a one stop shop for people interested in learning to play music.
The gift cards are offered in three increments: monthly, quarterly or full year subscriptions. Subscribers can access the website as often as they want, 24 hours a day, seven days a week, for the duration of their subscription.
The retail face value of a monthly card is $29.95. The quarterly card retails for $59.95, and provides the user with a free month, based on the monthly charge. The one year card has a suggested retail price of $199.95, which is less than $4 a week for the year.
Each of the three cards is offered wholesale in a minimum quantity of 10 units. A 10 card pack of the monthly version wholesales for $149.80, or $14.98 a unit. The 10 pack of quarterly cards wholesales for $299.80, or $29.98 a card. A pack of 10, one year lesson cards wholesales for $999.80, or $99.98 per card. Wholesale prices decrease with larger volume orders.
WorkshopLive
877 South Street
Pittsfield, MA 01201
Toll Free: 866-752-6283
Tel.: 413-358-9603
Fax: 413-447-8745
Email: pwipf@workshoplive.com
Website: www.workshoplive.com
Entire contents ©2021, Sumner Communications, Inc. (203) 748-2050. All rights reserved. No part of this service may be reproduced in any form without the express written permission of Sumner Communications, Inc. except that an individual may download and/or forward articles via e-mail to a reasonable number of recipients for personal, non-commercial purposes.