INDEPENDENT RETAILER magazine is now the official news outlet for Wholesale Central visitors. Each monthly issue is packed with new product ideas, supplier profiles, retailing news, and business strategies to help you succeed.

See new articles daily online at IndependentRetailer.com.
You wouldn't guess Norma Jeane Mortenson would be the blonde bombshell starring on your fabulous spring handbag this year, would you? Well, Norma Jeane is better known to the American culture by her Hollywood Glamour name, Marilyn Monroe.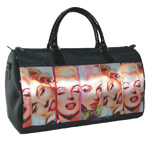 Aliz International Inc. has the newest Marilyn Monroe handbags and accessories. The collection features new shoulder totes, coin purse, overnight duffle, and checkbook wallet. These accessories are transformed with six new glowing Marilyn designs. The designs are: Beautiful Forever, In the City, Shapes of Marilyn, Enamor Collage, Picture Strip, and Marilyn Signature. This allows for twenty four combinations of high energy Marilyn Monroe accessories for those die-hard fans.
The whole collection will be available soon. Wholesale prices will range from $5 to $20. Retailers interested in these and many more exclusive Marilyn Monroe accessories should contact Aliz for a free catalogue.
Aliz International Inc. is the one stop shop for Marilyn Monroe and other famous celebrity accessories.
For more information, contact:
Aliz International Inc.
11136 Satellite Blvd.
Orlando, FL 32837
Tel.: 407-438-8816
Fax: 407-438-0122
Website: www.alizbags.com
Entire contents ©2021, Sumner Communications, Inc. (203) 748-2050. All rights reserved. No part of this service may be reproduced in any form without the express written permission of Sumner Communications, Inc. except that an individual may download and/or forward articles via e-mail to a reasonable number of recipients for personal, non-commercial purposes.