INDEPENDENT RETAILER magazine is now the official news outlet for Wholesale Central visitors. Each monthly issue is packed with new product ideas, supplier profiles, retailing news, and business strategies to help you succeed.

See new articles daily online at IndependentRetailer.com.
HEALING-SCENTS.COM introduces a new line of men's products, which like its women's line, is made of healing and soothing essential oils. It includes shave soap, after shave and cologne, each offered in a range of fragrances and sizes.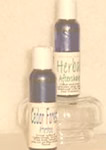 The fragrances include bay rum lime (most popular), straight bay rum, cedar forest, fireside, herbal, key lime and lavender peppermint. The shave soap is a toxin free, castile based formula. Unlike chemical laden shave soaps that irritate the skin, the Healing-Scents.com product soothes and softens the skin. It comes in a six ounce jar that wholesales for $6.80 a unit and has a suggested retail price of $10.50 a unit.
The after shave comes in two forms: splash and spray, each in both two ounce and four ounce units. The smaller splash form wholesales for $2.25 a unit and carries a suggested retail price of $5.75. The larger splash wholesales for $3.50, and suggested retail is $9.75. The smaller spray form wholesales for $2.50 a unit, and retails for $5.95. The larger spray wholesales for $3.75 retails for $10.50. The colognes are offered in the same variations as after shave, and are also priced the same.
There is also a, "Pamper That Man" kit, which contains a unit of bay rum lime shave soap, a cedar forest shower soap that can also be used as a shampoo, a face oil, and bay rum lime cologne. All are packaged in an attractive basket, and wholesale price is $25.50. The suggested retail is $49.95.
Healing-Scents.com has also introduced the, "Face Care Challenge Pack" for women. It is designed to challenge women who are currently using spa facial products. This package includes the company's alcohol free daily cleanser, "Forever Young," face cream and oil, a face scrub, mask and eye makeup remover. The package wholesales for $7.50 a unit, and suggested retail is $12.95.
The company does not require a minimum order on these or any of its products. All are also offered for private label programs, and management is available to help configure a retail set up and assortment, and to describe the healing aspects of its products.
For more information, contact:
Healing-Scents.com
1986 Will James Road
Rockford, IL 61109
Tel.: 815-874-0924
Website: www.healing-scents.com
Entire contents ©2023, Sumner Communications, Inc. (203) 748-2050. All rights reserved. No part of this service may be reproduced in any form without the express written permission of Sumner Communications, Inc. except that an individual may download and/or forward articles via e-mail to a reasonable number of recipients for personal, non-commercial purposes.