INDEPENDENT RETAILER magazine is now the official news outlet for Wholesale Central visitors. Each monthly issue is packed with new product ideas, supplier profiles, retailing news, and business strategies to help you succeed.

See new articles daily online at IndependentRetailer.com.
MYSTICAL MOMENTS introduces a new division and brand, Butterfly Dreams, which is a program specifically designed for easy use by convenience stores, independent retailers and others. It contains a choice of incense sticks, made according to the same quality standards of the parent company and its Aroma Moments pre-packaged division.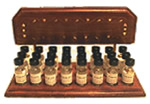 The Butterfly Dreams division provides a choice of 16 inch or 20 inch sticks in 16, and, on request, will also offer its 11 inch sticks. Sticks are available in all of the company's 600 fragrances.
The program is designed as a simple, streamlined way for retailers to add the profits of incense. It is offered with a cardboard countertop display box that measures about 12 inches square and high, with three stepped levels. It will hold a total of 12 different fragrances, including two bundles of each fragrance, and each bundle contains 50 sticks.
As with the other divisions, these basic sticks are made at the firm's own company in India. They are of crop grown sandalwood, and on arrival at the company's headquarters here in the U.S., they are dipped and infused with fragrance. The heavily saturated sticks are supplied in polypropylene bags.
The minimum order is $100, and volume pricing is available. The suggested retail price is between 39 and 40 cents a stick.
For more information, contact:
Butterfly Dreams div. Mystical Moments
Clarksville, FL 32430
Toll free: 800-220-6712 or 877-451-3584
Tel.: 850-674-2001 or 850-674-2054
Fax: 850-674-9051
Website: www.mysticalmoments.com
Entire contents ©2023, Sumner Communications, Inc. (203) 748-2050. All rights reserved. No part of this service may be reproduced in any form without the express written permission of Sumner Communications, Inc. except that an individual may download and/or forward articles via e-mail to a reasonable number of recipients for personal, non-commercial purposes.