INDEPENDENT RETAILER magazine is now the official news outlet for Wholesale Central visitors. Each monthly issue is packed with new product ideas, supplier profiles, retailing news, and business strategies to help you succeed.

See new articles daily online at IndependentRetailer.com.
SECURITY PLUS OMNI CORPORATION is a distributor of Taser C2, a new taser device designed for personal protection. It is the first such device to incorporate a new public safety background check technology called SureCheck.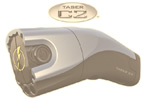 With SureCheck, Taser C2 units are shipped in an inactivated state. They cannot be used until the end user successfully completes a background check from the privacy of his or her own home, using a secure website or a toll free 800 number. After completing the background check, the user is issued an activation code unique to the serial number on this particular Taser C2 unit. Only after entering the activation code can the unit be operated. This ensures that the device is properly used for self protection.

The Taser C2 cartridge also continues to include a unique Anti-Felon Identification (AFID) program that disperses from 20 to 30 serialized confetti whenever the unit is deployed. This system of identifying the owner of the Taser system has proven successful in deterring criminal use for the past 13 years. Taser C2 is available in a choice of four colors: black pearl, titanium silver, electric blue, and metallic pink. The device is compact and measures roughly eight inches long by one and a quarter inch around, so it can be carried discretely. It is ergonomic in design and fits easily into any size hand. The unit also features an intuitive safety cover and trigger design that novice users can easily operate. At the same time, it protects the trigger from accidental activation to provide a safer, effective means of personal protection. The unit has a 15 foot range and is offered in two versions, with or without an integrated laser sight.
The unit with the laser sight beams a red dot at the attacker and is, by itself, a highly effective deterrent. A laser sight has been proven by law enforcement to diffuse the situation prior to the use of the unit's less than lethal, or lethal force, 65 percent of the time. It must be included in the original purchase, as this feature cannot be affixed to or removed from a Taser C2 later.
Each package includes the Taser C2 with a small disposable Taser cartridge and a training DVD. First shipments are scheduled this April. Wholesale pricing had not yet been finalized at press time. However, because the unit does not contain many of the features of high end professional taser units, such as dataport management, digital displays, and the Taser Cam interface, it is available at a lower cost. The suggested retail price is $299.95 for the version without the laser sight and $349.95 a unit with the laser sight.
For more information, contact:
Security Plus Omni Corporation
Commercial Taser Distributor
1727 East Springfield Avenue
Spokane, WA 99202
Toll free: 800-735-1797
Fax: 509-363-4261
Website: www.securityplus.ws
Entire contents ©2021, Sumner Communications, Inc. (203) 748-2050. All rights reserved. No part of this service may be reproduced in any form without the express written permission of Sumner Communications, Inc. except that an individual may download and/or forward articles via e-mail to a reasonable number of recipients for personal, non-commercial purposes.