INDEPENDENT RETAILER magazine is now the official news outlet for Wholesale Central visitors. Each monthly issue is packed with new product ideas, supplier profiles, retailing news, and business strategies to help you succeed.

See new articles daily online at IndependentRetailer.com.
INTERTRADE CORPORATION is the exclusive U.S. distributor for the Unidus condom, which is the world's fourth best selling brand. The brand is manufactured in Korea and has a feature that reportedly prolongs pleasure.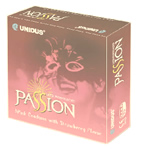 There are four different types: plain, ultra thin, contour and dotted, and each is available in three flavors: banana, strawberry and mint. They are offered in packs that contain three units each and in packs that contain 12 units each. Both packs are offered in a countertop display box, which represents the required minimum order. One displayer contains 48 three unit packs. The wholesale price, depending on order volume, is as low as $21.60 per displayer, and the three unit packs typically retail for $3 per pack.

The other display unit contains a dozen 12 pack units. It also wholesales for $21.60, and the suggested retail price for a 12 condom pack is $10 a pack.
For more information, contact:
InterTrade Corporation
5716 Columbia Park Road
Cheverly, MD 20785
Tel.: 301-773-8603
Fax: 301-773-8439
Website: www.intertradecorp.com
Entire contents ©2021, Sumner Communications, Inc. (203) 748-2050. All rights reserved. No part of this service may be reproduced in any form without the express written permission of Sumner Communications, Inc. except that an individual may download and/or forward articles via e-mail to a reasonable number of recipients for personal, non-commercial purposes.