INDEPENDENT RETAILER magazine is now the official news outlet for Wholesale Central visitors. Each monthly issue is packed with new product ideas, supplier profiles, retailing news, and business strategies to help you succeed.

See new articles daily online at IndependentRetailer.com.
UNIQUE FRAMES & DÉCOR offers picture frames that surround a heart shaped center cutout for photos with colorful designs. The frames are made in the U.S., and the manufacturer hired four different artists to create the original designs.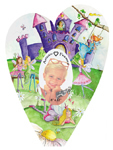 Called Artistic Heart Frames, they come in a selection of 11 different themes. Among them are mermaids, trains, butterflies, pets, fairies, castles, a jungle, under sea scenes and a space galaxy. The frames are made to set on a tabletop or hang on the wall. They are made of durable polypropylene and printed with UV protection, so the images won't fade.
The frames measure eight inches wide and 11 inches high. The photo opening is approximately 3.5 by five inches. Units come individually boxed, and display options are available.
The minimum order is $200, and can include an assortment of themes. The wholesale price is $12.50, and the suggested retail price is $26.99.
For more information, contact:
Unique Frame & Décor
235 East Orange Avenue Ste. G-3
Chula Vista, CA 91911
Tel.: 619-495-1039
Website: www.uniqueframesanddecor.com
Entire contents ©2022, Sumner Communications, Inc. (203) 748-2050. All rights reserved. No part of this service may be reproduced in any form without the express written permission of Sumner Communications, Inc. except that an individual may download and/or forward articles via e-mail to a reasonable number of recipients for personal, non-commercial purposes.