4/29/17 - 4/30/17
College Center at Trident Technical College
Charleston, SC United States
Join us in the beautiful state of South Carolina at Trident Technical College for an adventurous shopping weekend with your favorite bead show! We've got beaded bliss on tap with Brazilian stone beads from Blue Fire, Brass Ch more...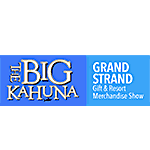 12/3/17 - 12/6/17
Myrtle Beach Convention Center
Myrtle Beach, SC United States
Now featuring more than 800-plus booths, the event, known among exhibitors and attendees as the Big Kahuna, remains the largest, longest-running coastal souvenir, resort merchandise and gift show in the nation. Retailers can more...