3/23/17 - 3/26/17
America's Center
St. Louis, MO United States
Dedicated to the Halloween and Haunt industry, the show brings together buyers and sellers of products, and services for the attractions, haunt and retail industry fro the Halloween season. For two decades TransWorld's annual more...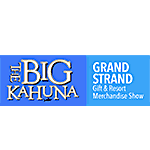 12/3/17 - 12/6/17
Myrtle Beach Convention Center
Myrtle Beach, SC United States
Now featuring more than 800-plus booths, the event, known among exhibitors and attendees as the Big Kahuna, remains the largest, longest-running coastal souvenir, resort merchandise and gift show in the nation. Retailers can more...