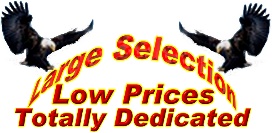 THE BARGAIN OUTLET WHOLESALE
Mail 608 S. 2nd Street
Marshall, Illinois 62441 United States
Phone: 217-822-6230
E-Mail: bargainoutletwholesale@gmail.com

---
Minimum Order: $100.00
Large Selection @ Low Prices! Your Business Is The Most Important Thing To Our Business!
**Check out the MANY SPECIALS**(SAFE & SECURE), Fast Service,

REMINDER: Book Mark This Site For All the Newest Arrivals & SPECIALS! Site updated weekly.

(*) in price column means Quantity Discounts Available!
Click on item name to see full details and picture if available.

Item #
Description
Price
Unit
amfelb
Assisted Opening Lock Blades - SPECIAL LOW PRICE $4.08
3.5" - 4.5" Closed. 7.5" - 8" over-all L.

*6.69
Ea.
tm.9pp
Banquet 9" Paper Plates
24 / Package. Wax Coated.

*2.47
Each (Minimum 4 pkgs.)
TMP.B549
Banquet Plastic Tablecover 54" X 108"
Banquet Heavy Duty Plastic Tablecover. 54" x 108"

*1.32
Each (MINIMUM 4 Pieces)
sf4003
Champagne Party Poppers *SPECIAL $2.95
A burst of confetti flies out when the string is pulled.

*3.78
Box (MINIMUM 3 Boxes)
hastshe
Cowboy Hat With Star - $1.3958
Children's Straw Hats with a star. Trimmed in red or blue.

*19.75
Dozen
eoyclearancesale
End Of Year Clearance
SAVE BIG! REALLY BIG!

CALL
Per Item
fbboapk
Feather Boa - 6' Pink *SPECIAL $2.75
Pink Feather Boa is 60g. Great for parties, dances, street festivals, Halloween & more.

*4.75
Each Cr. Cd processing fee on 48 pcs.
ha-boarb
Feather Boas 60gr - Rainbow $3.50
6' Feather Boas are great for dances, carnivals, New Year's party's, Mardi Gra, Halloween, dress up, and more.

*4.50
Each
nv1159n
Flashing Pacifier Necklace
Pacifier flashes different colors. Batteries included.

*15.00
Dozen (Minimum 2 Dozen in lots of 2 dz. )
fe.hz-6/1259
Fluffy White Embossed Bean Bag Dog WIth "Hug Me" Pillow
LIMITED SPECIAL $2.25 EACH. Embossed Dog With Hug Me Heart Pillow.

*3.00
Each (Minimum 3 Pieces)
indolt2-19
I. 19" Pink and Blue Pearlized Dolphin Inflate
Not for children under 3.

8.65
Dozen
kcthumbrclearance
Metal Hand Cuff Key Ring 5" *SPECIAL - CLEARANCE
GREAT ITEM! SPECIAL $4.59 dozen. GO BIG or GO HOME!

*7.50
Dozen
haspineri
Neon Spiky Baseball Hat - SPECIAL $4.25
Bright neon spikes on the front of a nylon baseball hat (Green, yellow, blue, and pink).

*7.50
Each / Cr. Cd processing fee on 40 pcs.
catrump
Plastic Trumpet - 13"
Great party favor or duck pond item!

*15.00
Dozen
freemerchandise
z. $19.50 FREE Merchandise
Limited time - Receive $19.50 FREE Neon Spikey Hats or $18.00 value of Galaxy Pillows with your $200 order of items with the 1st price (Inflates Excluded).

CALL
FREE Mdse. 1st Price $200 Order
This is a SECURE web site.
*Please remember that the lower amount of your order, the higher the freight ratio is. We have NO control over the amount charged by USPS or UPS on your freight. We're stuck with the high freight charges too, on incoming freight.
Orders are processed within 48 business hours (Pay Pal orders may require an extra business day).
*As an added security for your information, we DO NOT ask for the CVV number (last 3 -4 digits on the back of your credit card) online. In order to expedite your order faster, please telephone 217-822-6230 with the required information (9 A.M. - 4 P.M. CST)
Warehouse Visits: 24 Hour "Advance Order" online or by telephone required (you may add to order upon arrival). Warehouse visits by appointment only.
We NO longer accept orders by e-mail from unestablished clients.
TELEPHONE ORDERS: All telephone orders MUST BE backed up by a written order by email. NO EXCEPTIONS.
Like us on Facebook https://www.facebook.com/jaxfollies. Informational site: festival and special events, tips for your business, product info, pending legislation, SPECIAL DISCOUNTS for Jax Follies Friends and more.
Festival, Parades, Flea Market Info.: https://sites.google.com/site/jaxfolliesfriends