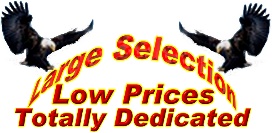 THE BARGAIN OUTLET WHOLESALE
Mail 608 S. 2nd Street
Marshall, Illinois 62441 United States
Phone: 217-822-6230
E-Mail: bargainoutletwholesale@gmail.com

---
Minimum Order: $100.00
74 items found: Page [ 1 ] [2] [3] <Next Page>
(*) in price column means Quantity Discounts Available!
Click on item name to see full details and picture if available.

Item #
Description
Price
Unit
10"BGBN
10" Christmas Selection Beverage Napkins
2 Ply banquet grade beverage napkins.

1.48
Each (Minimum 3 Pkgs.)
18fgwmbasst
18" Birthday, Get Well and Anniversary (Foil) Mylar Balloons
Assorted 18" Foil Mylar Helium Balloons.

0.89
Each (Minimum 10 Pieces)
f.20-78
6" Plastic Flying Fist Special $0.29
Squeeze handle & propel fist through the air.

*0.32
Minimum 12 Pieces
f.30105-1040
Acrylic Ice
Acrylic Ice. 3/8" - 1".

*4.49
Ea Minimum 3 Bgs. 8 Bag price = ast colors only
flcus12
American Flag - 12" X 18" **SPECIAL $0.415
12" X 18" US Polyester Flag on a 23-inch wooden stick (25" to the end of the gold spear tip). SHOW YOUR PATRIOTISM!!!!

*9.00
Dozen
BevNapSolCol
Banquet Beverage Napkins
2 Ply banquet grade. 50 Per package.

1.48
each (Minimum 4 packages)
tm.7pl
Banquet 7" Paper Plates
Wax coated. 24 Ct. / package.

*1.96
each (Minimum. 8 Packages)
tm.9pp
Banquet 9" Paper Plates
24 / Package. Wax Coated.

*2.47
Each (Minimum 4 pkgs.)
TMP.B549
Banquet Plastic Tablecover 54" X 108"
Banquet Heavy Duty Plastic Tablecover. 54" x 108"

*1.32
Each (MINIMUM 4 Pieces)
tm.ln
Banquet Supplies: Luncheon Napkins
Banquet Luncheon Napkins 2 ply (50 / pkg.). 13" X 13"

2.09
per package (Minimum 4 packages)
pfb16
Blowouts: 16" Paper Foil Blowouts
Assorted colors. 100 blowouts per bag.

14.16
per bag
paprblout
Blowouts: Paper Foil Blowouts
50 Pieces per bag. Assorted colors.

7.08
per unit
nvhaircolor
Bright Color Hair Spray *SPECIAL $1.20
Assorted BRIGHT Colored Hair Spray is great for parties, dances, & more.

*1.40
Ea (Min 12 Pcs)
sf4003
Champagne Party Poppers *SPECIAL $2.95
A burst of confetti flies out when the string is pulled.

*3.78
Box (MINIMUM 3 Boxes)
cc
Color Crayons
64 Piece Color Crayon Assortment.

0.75
per box (Minim 6 Boxs)
dfta
Deluxe Full Feather Tiara Assortment *Special Pricing .756
50 Full Feather Tiaras per box.

37.80
Per box of 50
ljw0126
Dirty Face Soap - New LOWER PRICE $5.15
Looks like a normal bar of soap, but look-out...! SEE SPECIAL PRICING in Full Description.

*5.80
Dozen
jkdisin
Disappearing (Magic) Ink SPECIAL $3.00
3.5 oz. When squirted it appears dark blue. After a few minutes, it turns clear (disappears).

*3.75
Dozen (Minimum 2 Dz.)
jrmoodor
Dolphin Mood Ring *0.94
The stone in the Dolphin Mood Ring changes color as to your mood.

*14.59
Dozen (minimum 2 dozen)
a.ep
Easter Pencils
Easter Foil & Standard Pencils. As LOW as $1.25 / dozen (in Quantity).****See "Full Description" for details.

*1.50
Dozen (Minimum 2 dozen per selection)
jbslaem
Emoticon Slap Bracelet 9" $0.77
Slap the wrist with the bracelet and watch it coil around the wrist.

*11.75
Dozen
eoyclearancesale
End Of Year Clearance
SAVE BIG! REALLY BIG!

CALL
Per Item
boygbn
Fall - Thanksgiving Banquet Beverage Napkin Assortment
2 Ply banquet grade beverage napkins - burgundy, school bus yellow, orange, and gold.

*1.48
Each Package (Min. 4 packages)
fbboapk
Feather Boa - 6' Pink *SPECIAL $2.75
Pink Feather Boa is 60g. Great for parties, dances, street festivals, Halloween & more.

*4.75
Each Cr. Cd processing fee on 48 pcs.
ha-boarb
Feather Boas 60gr - Rainbow $3.50
6' Feather Boas are great for dances, carnivals, New Year's party's, Mardi Gra, Halloween, dress up, and more.

*4.50
Each
74 items found: Page [ 1 ] [2] [3] <Next Page>
This is a SECURE web site.
*Please remember that the lower amount of your order, the higher the freight ratio is. We have NO control over the amount charged by USPS or UPS on your freight. We're stuck with the high freight charges too, on incoming freight.
Orders are processed within 48 business hours (Pay Pal orders may require an extra business day).
*As an added security for your information, we DO NOT ask for the CVV number (last 3 -4 digits on the back of your credit card) online. In order to expedite your order faster, please telephone 217-822-6230 with the required information (9 A.M. - 4 P.M. CST)
Warehouse Visits: 24 Hour "Advance Order" online or by telephone required (you may add to order upon arrival). Warehouse visits by appointment only.
We NO longer accept orders by e-mail from unestablished clients.
TELEPHONE ORDERS: All telephone orders MUST BE backed up by a written order by email. NO EXCEPTIONS.
Like us on Facebook https://www.facebook.com/jaxfollies. Informational site: festival and special events, tips for your business, product info, pending legislation, SPECIAL DISCOUNTS for Jax Follies Friends and more.
Festival, Parades, Flea Market Info.: https://sites.google.com/site/jaxfolliesfriends