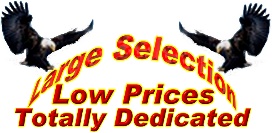 THE BARGAIN OUTLET WHOLESALE
Mail 608 S. 2nd Street
Marshall, Illinois 62441 United States
Phone: 217-822-6230
E-Mail: bargainoutletwholesale@gmail.com

---
Minimum Order: $100.00
18 items found: Page [ 1 ] [2] <Next Page>
(*) in price column means Quantity Discounts Available!
Click on item name to see full details and picture if available.

Item #
Description
Price
Unit
buwhite.r
.6 Oz. White Bubbles
2 dozen per box. Accent with ribbbon for a Great party favor!

* 0.134
Each Piece (Minimum 24 pieces)
Y20264
Black Bear Shelf / Computer Sitter
Sits on the shelf or computer. 2 Assorted. 5.5" L

* 2.75
Each (Minimum 6)
nv1714
Extendable - Foldable Selfie Stick *Special $4.99
Fits most smartphones & digital cameras. Taking self portraits and videos has never been easier. Perfect for traveling, video diaries, weddings, parties, concerts, sporting events, and more. No more asking others to take your picture. Assorted colors. As low as $4.99

* 6.42
Each (Minimum 3 pcs.)
SY-1373
Graduation Boy and Girl - SPECIAL $1.988
5" H Bisque.

* 10.46
Unit (4 pieces per unit)
SYI.5114-5
Guest Book *Drastically REDUCED
Guest Book White w/ Gold Print on cover (this book could be used for open house, grand openings, anniversaries or weddings).

* 3.00
each
tmp.2913c-grn
Heavy Duty Table Skirt - Green **FREE Merchandise
29" X 13'. Fits 8' banquet tables.

* 3.94
Each (Minimum 3 pcs) + Free Merchandise 3-23 Pcs.
nv1475
Inspirational Stones .54
Assorted colors and sayings per display box.

* 0.61
Each (Minimum 48 pieces)
vipspecial
JAX FOLLIES SPECIAL - FREE Merchandise GIFT
Gift taken from inventory. SEE full description.

CALL
Ea.
fe.25/942
Palm Tree Picks
Foil palm trees on long wooden pick. Great for fruit, cheese or just to insert into a drink to make it more festive.

3.90
unit
sf4003
Party Poppers *FREE Box (72 Pieces)
AKA Champagne Poppers. Popping, burst of confetti when the string is pulled. $3.78 Per box of 72 Poppers (minimum 3 boxes); *Buy 4 boxes & get the 5th box FREE!

* 3.78
Box (Minimum 3 boxes) 1 Bx FREE w/ 4 bxs.
fe.plstnd
Plate Stand
Small Plastic Plate Stand.

* 4.25
Per Dozen
sumasst
School: Pencils - Summer Assortment
Summer Pencil Assortment: "Have A Nice Summer", "I'm Outta Here", "School Bus", "Congratulations Graduate". Great graduation & school motivational item. OVER STOCKED! MAKE AN REASONABLE OFFER on 48 Dozen or more Assorted Pencils!

* 1.50
Per Dozen (Styles may be mixed for case pricing.
WTP
White Decorative Tissue Paper
20" X 26". 20 Sheets per package. As Low As .03 / sheet.

* 7.85
Dozen packages (.66 / Package)
FreeSpecials
x FREE Merchandise EXTRAVAGANZA
Check the many items "FREE" merchandise with selected purchase. Great way to build inventory with less investment.

CALL
Each
catreq
Z. CATALOG REQUEST
We'll be happy to send you an updated catalog.

CALL
Ea.
18 items found: Page [ 1 ] [2] <Next Page>
This is a SECURE web site.
Orders processed within 24-48 business hours (Pay Pal orders may require an extra business day).
*As an added security for your information, we DO NOT ask for the CVV number (last 3 - 4 digits on the back of your credit card) online. In order to expedite your order faster, please telephone 217-826-6230 or 217-822-6230 with the required information (9 A.M. - 5 P.M. CST)
Warehouse Visits: 24 Hour "Advance Order" online or by telephone required (you may add to order upon arrival). Warehouse visits by appointment only.
We NO longer accept orders by e-mail from unestablished clients.
Like us on Facebook https://www.facebook.com/jaxfollies. Informational site: festival and special events, tips for your business, product info, pending legislation, SPECIAL DISCOUNTS for Jax Follies Friends and more.
Festival, Parades, Flea Market Info.: https://sites.google.com/site/jaxfolliesfriends