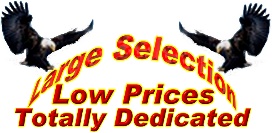 THE BARGAIN OUTLET WHOLESALE
Mail 608 S. 2nd Street
Marshall, Illinois 62441 United States
Phone: 217-822-6230
E-Mail: bargainoutletwholesale@gmail.com

---
Minimum Order: $100.00
33 items found: Page [ 1 ] [2] <Next Page>
(*) in price column means Quantity Discounts Available!
Click on item name to see full details and picture if available.

Item #
Description
Price
Unit
Y14229
"Camp Run A-Muck" Stepping Stones
"Camp Run A-Muck" Stepping Stones. 11.75" D. 2 Assorted.

7.50
Each
ac1001717
Archery Set With Knife - 27"
This 27" bow and arrow set includes a bow, plastic knife, three soft arrows with suction cups on the ends and target.

19.89
Dozen
espdj288
Black Bear With Cub
Momma and cub climbing tree.

* 9.25
Each Minimum 2 pieces
4109 CM
Clip Ons - Color Mirror $2.50
Color Mirror Clip On Sunglasses. Clips on over prescription glasses. **SEE SPECIAL

* 13.15
Dozen **Special (6 Dz+ - $5 / $3.95 Dz ASSORTED St
inclo27
Clown Fish Inflatable - 27"
Bright colored fish balloons. Great for prizes, party favors, rewards & more. HOT!

15.60
Dozen
3l241033fx
Diamond Cut Rings
Assorted colors Diamond Cut Rings. .0375 Each. Great perceived value when displayed in a black ring display!

1.80
Unit (4 Dozen) *MINIMUM 3 Units
ljw0126
Dirty Face Soap - New LOWER PRICE $5.15
Looks like a normal bar of soap, but look-out...! SEE SPECIAL PRICING in Full Description.

* 5.80
Dozen
jkdisin
Disappearing (Magic) Ink
3.5 oz. When squirted it appears dark blue. After a few minutes, it turns clear.

* 2.75
Dozen (Minimum 2 Dz.)
jrmoodor
Dolphin Mood Ring *0.94
The stone in the Dolphin Mood Ring changes color as to your mood.

* 14.59
Dozen (minimum 2 dozen)
ak.88476
European Fruit Cookie Jar (Hand Painted) *SPECIAL $16.97
European Fruit Cookie Jar. Very detailed. Hand painted.

* 22.86
Each **SPECIAL PRICE**Minimum 3 Pcs.
fb.ffssspr
French Statice Spray - .43
32" H Assorted colors. $5.08 Dozen ASSORTED STYLES Silk Flowers. See Full Description for details.

* 10.15
Dz. Min. 2 Dz / $5.08 Dz. 48 Dz. Assorted Styles
ldc0079
Giant's Google Eye Glasses *SPECIAL .87
Google eye nerd glasses. Great party item. See full description for SPECIAL.

* 1.05
Each - Minimum 6 Pieces
SY-1373
Graduation Boy and Girl - SPECIAL $1.988
5" H Bisque.

* 10.46
Unit (4 pieces per unit)
rr96373
Horse Picture Frame
Resin. 9" W X 8.25"H.

* 7.97
Each (Minimum 3 Pcs.)
knifeassortment487
Knife Assortment - *$3.90 **20% OFF
Limited time special. Assorted style knives.

* 4.87
Each
lp100bp.ni
Laser Pointer Bullet Pen Flash Light Key Chain *SPECIAL $1.0475
It's a pen! It's a laser pointer! It's a flashlight! It's a key chain! ***SPECIAL PRICE 12.57 DOZEN (12 DOZEN).***

* 15.69
Dz (Minimum 2 dozen)
inmbf24
Monkey: 24" Big Foot Monkey Inflate
Assorted colors.

19.80
Dozen
inmonco
Monkey: 24" Colorful Monkey Inflates
Very cute! Bright colors.

* 19.20
Dozen
nv1182
Mood Ring Band $0.5542
Express your mood by your ring. Changes color as your moods (emotions) change.

* 8.00
Per Dozen (Minimum 3 Dz.)
nv1182as
Mood Rings With Stones Assortment
Assorted shapes with stones.

* 10.51
Dozen (Minimum 3 Dozen)
brdpiano
Musical Bird Piano With Microphone
Battery Operated Piano With Microphone, lights, violin, guitar, trumpet & organ sounds.

14.39
Each
inowl24
Owl Inflate - 24" $1.35
Assorted colors owl inflate.

* 19.20
Dozen
fe/25-1358
Plastic R.I.P. Coffin Candy-Nut Cups *.67
Great for "Over The Hill" or Halloween parties. SEE SPECIAL QUANTITY PRICING ... .67 per dozen!

* 1.00
Dozen (Minimum 2 Dozen)
inpon27
Pony Inflate Assortment - 27"
Assorted Colors. Not for children under 3.

22.80
Per Dozen
inprinc
Princess Inflate - 36"
Bright colored inflate for all the little princesses. *VERY HOT Item!

* 16.20
Dozen
33 items found: Page [ 1 ] [2] <Next Page>
This is a SECURE web site.
*Please remember that the lower amount of your order, the higher the freight ratio is. We have NO control over the amount charged by USPS or UPS on your freight. We're stuck with the high freight charges too, on incoming freight.
Orders processed within 24-48 business hours (Pay Pal orders may require an extra business day).
*As an added security for your information, we DO NOT ask for the CVV number (last 3 -4 digits on the back of your credit card) online. In order to expedite your order faster, please telephone 217-822-6230 with the required information (9 A.M. - 4 P.M. CST)
Warehouse Visits: 24 Hour "Advance Order" online or by telephone required (you may add to order upon arrival). Warehouse visits by appointment only.
We NO longer accept orders by e-mail from unestablished clients.
Like us on Facebook https://www.facebook.com/jaxfollies. Informational site: festival and special events, tips for your business, product info, pending legislation, SPECIAL DISCOUNTS for Jax Follies Friends and more.
Festival, Parades, Flea Market Info.: https://sites.google.com/site/jaxfolliesfriends
Click here for our newsletter and special offers.