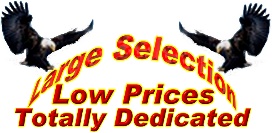 THE BARGAIN OUTLET WHOLESALE
Mail 608 S. 2nd Street
Marshall, Illinois 62441 United States
Phone: 217-822-6230
E-Mail: bargainoutletwholesale@gmail.com

---
Minimum Order: $100.00
42 items found: Page [ 1 ] [2] [3] <Next Page>
(*) in price column means Quantity Discounts Available!
Click on item name to see full details and picture if available.

Item #
Description
Price
Unit
Y14229
"Camp Run A-Muck" Stepping Stones
"Camp Run A-Muck" Stepping Stones. 11.75" D. 2 Assorted.

7.50
Each
in-guisg
42" Rock Guitar
Assorted Colors.

* 11.25
Dozen
ac1001717
Archery Set With Knife - 27" $1.488
This 27" bow and arrow set includes a bow, plastic knife, three soft arrows with suction cups on the ends and target. As low As $17.85 per dozen ($1.49).

* 19.89
Dozen
espdj288
Black Bear With Cub
Momma and cub climbing tree.

* 9.25
Each Minimum 2 pieces
25rosespray
Burgundy Rose Spray - FREE ROSE SPRAY
25" Burgundy Rose Spray. SPECIAL..1 FREE ROSE SPRAY with the purchase of 4 floral sprays.

* 3.50
each *FREE Rose Spray w/ purchase of 4
4109 CM
Clip Ons - Color Mirror $2.50
Color Mirror Clip On Sunglasses. Clips on over prescription glasses. **SEE SPECIAL

* 13.15
Dozen **Special (6 Dz+ - $5 / $3.95 Dz ASSORTED St
inclo27
Clown Fish Inflatable - 27"
Bright colored fish balloons. Great for prizes, party favors, rewards & more. HOT!

16.20
Dozen
nvhaircolor
Color Hair Spray *2 FREE Color Spray
Assorted BRIGHT colors per display.

* 1.40
Each (Minimum 12 pieces) *2 FREE W/12 pc purchased
3l241033fx
Diamond Cut Rings
Assorted colors Diamond Cut Rings. .033 Each. Great perceived value when displayed in a black ring display!

1.55
Unit (4 Dozen) *MINIMUM 3 Units
ljw0126
Dirty Face Soap - New LOWER PRICE $5.15
Looks like a normal bar of soap, but look-out...! SEE SPECIAL PRICING in Full Description.

* 5.80
Dozen
jkdisin
Disappearing (Magic) Ink
3.5 oz. When squirted it appears dark blue. After a few minutes, it turns clear.

* 2.75
Dozen (Minimum 2 Dz.)
jrmoodor
Dolphin Mood Ring *2 FREE
The stone in the Dolphin Mood Ring changes color as to your mood. 2 FREE Dolphin Mood Rings per dozen purchase.

* 13.20
Dozen (minimum 2 dozen) *2 FREE Rings per dozen
ak.88476
European Fruit Cookie Jar (Hand Painted) *SPECIAL $16.97
European Fruit Cookie Jar. Very detailed. Hand painted.

* 22.86
Each **SPECIAL PRICE**Minimum 3 Pcs.
nv1159n
Flashing Pacifier Necklace $0.805 Each
Pacifier flashes different colors. Batteries included.

* 13.20
Dozen (Minimum 2 Dozen in lots of 2 dz. )
fb.ffssspr
French Statice Spray - .43
32" H Assorted colors. $5.08 Dozen ASSORTED STYLES Silk Flowers. See Full Description for details.

* 10.15
Dz. Min. 2 Dz / $5.08 Dz. 48 Dz. Assorted Styles
42 items found: Page [ 1 ] [2] [3] <Next Page>
This is a SECURE web site.
Orders processed within 24-48 business hours (Pay Pal orders may require an extra business day).
*As an added security for your information, we DO NOT ask for the CVV number (last 3 - 4 digits on the back of your credit card) online. In order to expedite your order faster, please telephone 217-826-6230 or 217-822-6230 with the required information (9 A.M. - 5 P.M. CST)
Warehouse Visits: 24 Hour "Advance Order" online or by telephone required (you may add to order upon arrival). Warehouse visits by appointment only.
We NO longer accept orders by e-mail from unestablished clients.
Like us on Facebook https://www.facebook.com/jaxfollies. Informational site: festival and special events, tips for your business, product info, pending legislation, SPECIAL DISCOUNTS for Jax Follies Friends and more.
Festival, Parades, Flea Market Info.: https://sites.google.com/site/jaxfolliesfriends
Click here for our newsletter and special offers.