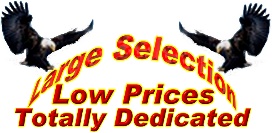 THE BARGAIN OUTLET WHOLESALE
Mail 608 S. 2nd Street
Marshall, Illinois 62441 United States
Phone: 217-822-6230
E-Mail: bargainoutletwholesale@gmail.com

---
Minimum Order: $100.00
40 items found: Page [ 1 ] [2] <Next Page>
(*) in price column means Quantity Discounts Available!
Click on item name to see full details and picture if available.

Item #
Description
Price
Unit
85/2208f
Acrylic Ring Assortment (Less than .10 1/2 each)
Assorted colors and patterns.

*5.66
Unit (4 dozen per unit)
aliennk
Alien & Stone Pendant on Black Cord Necklace Assortment $0.41
Alien pendant on chord necklace and stone on chord necklace.

*7.20
per dozen
13605770f
Best Friends Glitter Jelly Bracelet
Assorted colors.

*1.26
Dozen (minimum 3 dozen)
13658130
BFF Rubber Rings
"Best Friends Forever".

*1.35
Unit (2 dozen) *Minimum 3 units
3l241033fx
Diamond Cut Rings
Assorted colors Diamond Cut Rings. .0375 Each. Great perceived value when displayed in a black ring display!

1.80
Unit (4 Dozen) *MINIMUM 3 Units
jrmoodor
Dolphin Mood Ring *0.94
The stone in the Dolphin Mood Ring changes color as to your mood.

*14.59
Dozen (minimum 2 dozen)
jbslaem
Emoticon Slap Bracelet 9" $0.77
Slap the wrist with the bracelet and watch it coil around the wrist.

*11.75
Dozen
eoyclearancesale
End Of Year Clearance
SAVE BIG! REALLY BIG!

CALL
Per Item
n63148a
Feather Hair Extensions
15.25" L. Feather Hair Extensions. Fashionable and very pretty.

*0.64
Ea. Min. 12 Pcs
nv1159n
Flashing Pacifier Necklace
Pacifier flashes different colors. Batteries included.

*15.00
Dozen (Minimum 2 Dozen in lots of 2 dz. )
j42225
Glitter & Lace Leatherette Shoulder Bag Assort. *SPECIAL $3.47
Assorted colors - gold, silver, & black shoulder purse. Great for an evening bag.

*4.29
Ea. (Minimum 3 Pcs.)
grungeasst
Grunge Ring Assortment
Assorted Styles/bag (25 per unit). $0.57 Each. Includes mood rings, eye rings, yin yang rings, & more.

*14.27
Per Unit (25 per bag)
Relpinbkmk
Inspirational Pins & Bookmarks
Light of The World Bookmark with a lighthouse lapel pin. Come Follow Me Bookmark with fish (Jesus) lapel pin.

3.60
Per Dozen
24-1653f
Inspirational Sayings Bracelets
Inspirational Sayings: "Hope, Faith, Courage, Love, Courage,and Dream".

2.87
Unit (2 Dz.)
kiddieanrgs
Kiddie Animal Ring Assortment **Special Pricing***
6 Dozen assorted animal rings per display box.

*4.30
Per display **(SEE SPECIAL)
hattacasst
Metal Hat Tac Assortment *$1.00
Assorted state pins. See full description for close-out pricing.

*3.50
Dozen (Minimum 3 dozen)
jrmoobu.r
Metal Butterfly Mood Ring **SPECIAL
Adjustable bands..fits most. **SPECIAL $7.20 Dozen. Regularly minimum is 30 dozen for this low price. See pricing.

*9.60
Per Dozen (Minimum 2 Dz.)
aa.600
Metal Rainbow Coil Bracelet * .25
Individually packaged with hangable header. As Low As .25 each.

*0.37
Each (Minimum 12 Pieces)
nv1182
Mood Ring Band $0.5542
Express your mood by your ring. Changes color as your moods (emotions) change.

*8.00
Per Dozen (Minimum 3 Dz.)
24-2389f
Mood Ring Bands
Color of ring changes as to your mood (emotions) based on your body temperature. Wear your emotions on your finger. Very elegant looking.

*12.40
Dozen
nslcb / blwhslcb
Neon & Black - White Shoe Lace Hair Barrettes
Neon Shoe Lace Hair Barrettes. Bright colored barrettes. Black & White Shoe Lace Barrettes.

*5.30
Per dozen
niba325n
Neon Crackle Bracelet *Special $0.52
Bright neon colored bracelets in a display canister.

*0.65
Each (Minimum 12 pieces)
3l241003fx
Neon Twist Coil Bracelets
Assorted bright colors.

2.35
Dozen
nv1182mq
Ocean Mystique Mood Ring Deluxe
Very sophisticated looking mood ring bands.

*12.15
Dozen ( Minimum 3 dozen)
cotiahe
Princess Tiara With Heart Stone
A must have for all the little princesses.

*0.69
Each (Minimum 5 Pieces)
40 items found: Page [ 1 ] [2] <Next Page>
This is a SECURE web site.
*Please remember that the lower amount of your order, the higher the freight ratio is. We have NO control over the amount charged by USPS or UPS on your freight. We're stuck with the high freight charges too, on incoming freight.
Orders are processed within 48 business hours (Pay Pal orders may require an extra business day).
*As an added security for your information, we DO NOT ask for the CVV number (last 3 -4 digits on the back of your credit card) online. In order to expedite your order faster, please telephone 217-822-6230 with the required information (9 A.M. - 4 P.M. CST)
Warehouse Visits: 24 Hour "Advance Order" online or by telephone required (you may add to order upon arrival). Warehouse visits by appointment only.
We NO longer accept orders by e-mail from unestablished clients.
TELEPHONE ORDERS: All telephone orders MUST BE backed up by a written order by email. NO EXCEPTIONS.
Like us on Facebook https://www.facebook.com/jaxfollies. Informational site: festival and special events, tips for your business, product info, pending legislation, SPECIAL DISCOUNTS for Jax Follies Friends and more.
Festival, Parades, Flea Market Info.: https://sites.google.com/site/jaxfolliesfriends