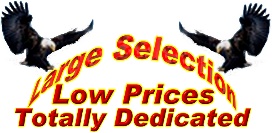 THE BARGAIN OUTLET WHOLESALE
Mail 608 S. 2nd Street
Marshall, Illinois 62441 United States
Phone: 217-822-6230
E-Mail: bargainoutletwholesale@gmail.com

---
Minimum Order: $100.00
45 items found: Page [ 1 ] [2] [3] <Next Page>
(*) in price column means Quantity Discounts Available!
Click on item name to see full details and picture if available.

Item #
Description
Price
Unit
FreeSpecials
1 Warehouse Clearance - FREE Merchandise EXTRAVAGANZA!
We lost the lease on one of our warehouses. Let's face it --it's expensive to move (even if it's across town)! We would rather give it to you as an ADDITIONAL SAVINGS than move it. Check the many "FREE" merchandise ITEMS with selected purchase. Great way to build inventory with less investment!

5.00
Dz. (Minimum 2 Dozen
jwsethe.fe
15" Heart Necklace & 7.5" Bracelet Set
Assorted colors.

11.76
Dozen
jbunisl
9" Unicorn Slap Bracelet
Very cute & lots of fun! .959 Each when you buy 12 or .7296 each when you buy 144 slap bracelets.

* 11.50
Dz.
85/2208f
Acrylic Ring Assortment (Less than .10 1/2 each)
Assorted colors and patterns.

* 5.66
Unit (4 dozen per unit)
aliennk
Alien Necklace
Alien Necklace on black cord.

* 7.20
per dozen
13605770f
Best Friends Glitter Jelly Bracelet
Assorted colors.

* 1.26
Dozen (minimum 3 dozen)
13658130
BFF Rubber Rings
"Best Friends Forever".

* 1.35
Unit (2 dozen) *Minimum 3 units
3l241033fx
Diamond Cut Rings
Assorted colors Diamond Cut Rings. .033 Each. Great perceived value when displayed in a black ring display!

1.55
Unit (4 Dozen) *MINIMUM 3 Units
jrmoodor
Dolphin Mood Ring *2 FREE
The stone in the Dolphin Mood Ring changes color as to your mood. 2 FREE Dolphin Mood Rings per dozen purchase.

* 13.20
Dozen (minimum 2 dozen) *2 FREE Rings per dozen
frdcha4
Dream Catcher Hanger 4" .90 Each
Legend has it that dream catchers keep the bad dreams away. $1.15 Each (12 Dream Catchers) or .90 Each (minimum 120 Dream Catchers)

* 13.80
Dozen
n63144 - 63149_c45+
Feather Hair Extensions *SPECIAL Pricing
13" - 20" L. Feather Hair Extensions. Assorted styles. Fashionable and very pretty. ***AS LOW AS .52***

* 0.64
Ea. Min. 12 Pcs. / Style *Qty price = Asst. Style
glbumri
Flashing Bumpy Rings - .38
Squeeze the 1.5" rubber ring to trigger a multi-color light show.

* 5.75
Dozen
nv1159n
Flashing Pacifier Necklace $0.805 Each
Pacifier flashes different colors. Batteries included.

* 13.20
Dozen (Minimum 2 Dozen in lots of 2 dz. )
j42225
Glitter & Lace Leatherette Shoulder Bag Assortment
Assorted colors - gold, silver, & black shoulder purse. Great for an evening bag. $4.29 Each (6 Shoulder Bags) or $3.85 each (44 Shoulder Bags).

* 4.29
Ea. (Minimum 6 Pcs.
grungeasst
Grunge Ring Assortment
Assorted Styles/bag (25 per unit). $0.57 Each. Includes mood rings, eye rings, yin yang rings, & more.

* 14.27
Per Unit (25 per bag)
45 items found: Page [ 1 ] [2] [3] <Next Page>
This is a SECURE web site.
Orders processed within 24-48 business hours (Pay Pal orders may require an extra business day).
*As an added security for your information, we DO NOT ask for the CVV number (last 3 - 4 digits on the back of your credit card) online. In order to expedite your order faster, please telephone 217-826-6230 or 217-822-6230 with the required information (9 A.M. - 5 P.M. CST)
Warehouse Visits: 24 Hour "Advance Order" online or by telephone required (you may add to order upon arrival). Warehouse visits by appointment only.
We NO longer accept orders by e-mail from unestablished clients.
Like us on Facebook https://www.facebook.com/jaxfollies. Informational site: festival and special events, tips for your business, product info, pending legislation, SPECIAL DISCOUNTS for Jax Follies Friends and more.
Festival, Parades, Flea Market Info.: https://sites.google.com/site/jaxfolliesfriends
Click here for our newsletter and special offers.