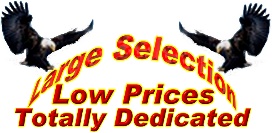 THE BARGAIN OUTLET WHOLESALE
Mail 608 S. 2nd Street
Marshall, Illinois 62441 United States
Phone: 217-822-6230
E-Mail: bargainoutletwholesale@gmail.com

---
Minimum Order: $100.00
21 items found: Page [ 1 ]
(*) in price column means Quantity Discounts Available!
Click on item name to see full details and picture if available.

Item #
Description
Price
Unit
oct20deduction
$20 Gift Certificate - FREE
Limited time - Receive $20 OFF of your order.

CALL
$20 OFF 1st Price $200 Order
bombbagn
Bomb Bags .0825
Exploding Bag. Great flea market or checkout impulse item! *SPECIAL .99 per dozen (66 dozen)*.

* 1.40
Per Doz ( Min. 6 Dz) Sold in increments of 6 dz.
nvhaircolor
Color Hair Spray *Special Price $1.10
Assorted BRIGHT Colored Hair Spray SPECIAL PRICE $1.10 each (See full description).

* 1.40
Ea (Min 12 Pcs) 36 FREE Party Poppers w/12 Cans
ljw0126
Dirty Face Soap - New LOWER PRICE $5.15
Looks like a normal bar of soap, but look-out...! SEE SPECIAL PRICING in Full Description.

* 5.80
Dozen
jkdisin
Disappearing (Magic) Ink SPECIAL PRICING
3.5 oz. When squirted it appears dark blue. After a few minutes, it turns clear (disappears).

* 3.75
Dozen (Minimum 2 Dz.)
ldc0079
Giant's Google Eye Glasses *SPECIAL .87
Google eye nerd glasses. Great party item. See full description for SPECIAL.

* 1.05
Each - Minimum 6 Pieces
jokeasst
Joke Assortment Sample Pack
Assorted joke and gag gift items.

55.00
Per Sample Pack
lp100bp.ni
Laser Pointer Bullet Pen Flash Light Key Chain
It's a pen! It's a laser pointer! It's a flashlight! It's a key chain!

1.31
Each (Min. 8 pieces)
sf4003
Party Poppers *SPECIAL $2.95 Box (72 Pieces)
AKA Champagne Poppers. Popping, a burst of confetti when the string is pulled. Special $15 FREE Party Poppers with the purchase of 19 boxes of Party Poppers.

* 3.78
Box (Minimum 3 boxes)
kc004plu
Pooping Pig Key Ring - 2" *Special $7.50 ($0.625)
Very Cute! Just squeeze...Watch the reaction of your guests (brown oozes out of his behind). *SPECIAL PRICE $7.50 DOZEN (14 DOZEN).

* 12.50
Dozen (1 Dz. = Bulk) *(2 Dozen per display box)
jokepc
Puff Cigarettes $0.35
Puff gently on cigarette and it appears to be lit and smoke comes out.

* 5.25
Dozen
mdseasstsample
Sample Pack - Merchandise General Assortment
Merchandise Sample General Merchandise Assortments. Large Selection at a LOW Price!

55.00
Per Sample Collection
gftstoysnovltysasst
Sample Pack - Gifts-Toys-Novelties
Gifts-Toys-Novelties Merchandise Sample Pack.

50.00
Each ($ Amount stands for Sample Pack Value)
t8500special
Snap & Pops *Manager's SPECIAL *FREE Party Poppers
Throw against a hard surface & listen to the bang! A great impulse seller all year round.

* 7.75
Box *10 FREE Party Poppers with 2 Boxs Snap & Pops
jk-snagu
Snap Gum (Human Mouse Trap) $3.60 Dozen
A snappy surprise for your gum mooching friends. New lower minimum.

* 4.80
Dozen
nv1811p
Snorting Squeaking Squeeze Pig
Squeeze pig to hear him snort. Very cute.

* 1.95
Ea. Min. 3 pieces
ca-swblcrn
Switchblade Comb
9" Stainless Steel Switchblade Comb. Comb flips open like a switchblade. Harmless fun.

1.25
Each (Minimum 3 Pieces)
Y26034-26036-26067
Whimsical Kitchen Wall Plaques *Special $2.65
3 Assorted resin wall plaques. 8"H. They make a great house warming, bridal shower, Mother's Day, or Thinking of You gift.

* 3.75
Each * Limited to Assorted Styles
orderinfo
z. ORDERING INFORMATION
How To Order, Processing, Payment, Shipping, Warehouse Information, and More.

CALL
Per Order
USPSrestrictions
z. USPS - PARCEL POST RESTRICTED ITEMS
US Postal Service - PARCEL POST RESTRICTED ITEMS: Knives, Hair Color, Fireworks (includes Plastic Round Caps, Fart Bombs, Bomb Bags, Snap & Pops, Party Popprs, etc).

CALL
per unit
catreq
zz. CATALOG REQUEST
We'll be happy to send you an updated novelty catalog or gift catalog with pictures & prices.

CALL
Ea.
21 items found: Page [ 1 ]
This is a SECURE web site.
*Please remember that the lower amount of your order, the higher the freight ratio is. We have NO control over the amount charged by USPS or UPS on your freight. We're stuck with the high freight charges too, on incoming freight.
Orders processed within 24-48 business hours (Pay Pal orders may require an extra business day).
*As an added security for your information, we DO NOT ask for the CVV number (last 3 -4 digits on the back of your credit card) online. In order to expedite your order faster, please telephone 217-822-6230 with the required information (9 A.M. - 4 P.M. CST)
Warehouse Visits: 24 Hour "Advance Order" online or by telephone required (you may add to order upon arrival). Warehouse visits by appointment only.
We NO longer accept orders by e-mail from unestablished clients.
Like us on Facebook https://www.facebook.com/jaxfollies. Informational site: festival and special events, tips for your business, product info, pending legislation, SPECIAL DISCOUNTS for Jax Follies Friends and more.
Festival, Parades, Flea Market Info.: https://sites.google.com/site/jaxfolliesfriends
Click here for our newsletter and special offers.