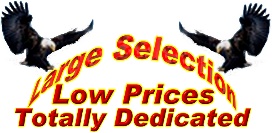 THE BARGAIN OUTLET WHOLESALE
Mail 608 S. 2nd Street
Marshall, Illinois 62441 United States
Phone: 217-822-6230
E-Mail: bargainoutletwholesale@gmail.com

---
Minimum Order: $100.00
15 items found: Page [ 1 ]
(*) in price column means Quantity Discounts Available!
Click on item name to see full details and picture if available.

Item #
Description
Price
Unit
ha-boarb
6' FEATHER BOAS 60gr - Rainbow
Great for dances, carnivals, New Year's party's, Halloween, dress up, and more.

* 4.10
Each (minimum 3 pieces per color))
nvhaircolor
Color Hair Spray *2 FREE Color Spray
Assorted BRIGHT colors per display.

* 1.40
Each (Minimum 12 pieces) *2 FREE W/12 pc purchased
dfta
Deluxe Full Feather Tiara Assortment .756
50 Full Feather Tiaras per box.

* 50.40
Per box of 50
fboap
Feather Boa - Pink
6' - 60 g. Pink Feather Boa. Great for dances, parties, play dates, Valentine's Day, & more.

* 4.10
Each Minimum 3 pcs.
nv1159n
Flashing Pacifier Necklace $0.805 Each
Pacifier flashes different colors. Batteries included.

* 13.20
Dozen (Minimum 2 Dozen in lots of 2 dz. )
fe/fgc
Gold Foil Crown *Warehouse Special $0.12
4" H. X 24" L. foil crown. Great for all your little princesses & princes. A pageant must.

* 1.80
Dozen
tmp.2913c-grn
Heavy Duty Table Skirt - Green *$2.96
29" X 13' Table Skirt. Fits 8' banquet tables.

* 3.94
Each (Minimum 3 pcs)
vipspecial
JAX FOLLIES SPECIAL - FREE Merchandise GIFT
Gift taken from inventory for our Jax Follies Facebook friends to show that we value your friendship.

CALL
Ea.
n3016
Light Up Flashing Mouth Piece # 1 Light Up
Make your mouth shine with pretty colored lights. A MUST FOR DANCES & NEW YEARS PARTIES!

* 10.75
Dozen (2 Dz increments)
fe.25/942
Palm Tree Picks
Foil palm trees on long wooden pick. Great for fruit, cheese or just to insert into a drink to make it more festive.

3.90
unit
sf4003
Party Poppers *FREE Box (72 Pieces)
AKA Champagne Poppers. Popping, burst of confetti when the string is pulled. $3.78 Per box of 72 Poppers (minimum 3 boxes); *Buy 4 boxes & get the 5th box FREE!

* 3.78
Box (Minimum 3 boxes) 1 Bx FREE w/ 4 bxs.
sf.4014
Snap & Pops - Premium
Makes a pop sound when thrown against a hard surface.

7.73
Box
catreq
Z. CATALOG REQUEST
We'll be happy to send you an updated novelty catalog or gift catalog with pictures & prices.

CALL
Ea.
freefreightspec200
z. Freight = FREE Merchandise
Freight SPECIAL...FREE merchandise taken from inventory equal to the UPS ground freight charge on your order(1st price of item). Example: If your ground freight is $15.00, you will receive $15.00 of FREE merchandise. ******See full description for details.

CALL
$200 Online-Qty & Sale Prices Excluded
TAF=FREE merchandise
z. TELL-A-FRIEND - Earn $25, $50, $100
TELL-A-FRIEND about THE BARGAIN OUTLET WHOLESALE and receive $25 FREE merchandise. SEE Full Description for details.

CALL
Each
15 items found: Page [ 1 ]
This is a SECURE web site.
Orders processed within 24-48 business hours (Pay Pal orders may require an extra business day).
*As an added security for your information, we DO NOT ask for the CVV number (last 3 - 4 digits on the back of your credit card) online. In order to expedite your order faster, please telephone 217-826-6230 or 217-822-6230 with the required information (9 A.M. - 5 P.M. CST)
Warehouse Visits: 24 Hour "Advance Order" online or by telephone required (you may add to order upon arrival). Warehouse visits by appointment only.
We NO longer accept orders by e-mail from unestablished clients.
Like us on Facebook https://www.facebook.com/jaxfollies. Informational site: festival and special events, tips for your business, product info, pending legislation, SPECIAL DISCOUNTS for Jax Follies Friends and more.
Festival, Parades, Flea Market Info.: https://sites.google.com/site/jaxfolliesfriends
Click here for our newsletter and special offers.